howbali.com – An Indonesian vacation is incomplete without visiting the iconic city of Bali. Located in Centre Indonesia, Bali is an island that is a central hub of culture, art, music, food, and restaurant, which attracts over 6 million tourists every year.
And for a good reason! Bali's tourism industry is composed of- naturally -the city's access to the white sand beaches and conventions and festivals.
Bali is home to many arts if you want to gather a little more culture during your trip. But of course, Bali's main attraction for most vacationers is the access to the endless warm beaches.
Booking your vacation to Bali is easy, but deciding where to stay can be a heavy task. There are downtown hotels and luxury resorts, each boasting unique styles, and amenities.
Whether you're seeking a couples retreat or a vacation that the whole family can enjoy, you'll want to ensure the hotel or resort you choose fits your needs.
Best resorts in Bali:
1. Uma Kalai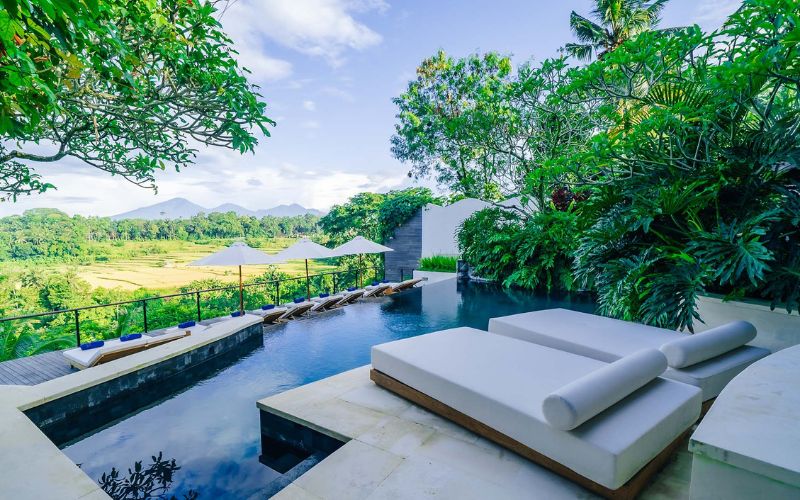 Situated in the rural village of Sayan, minutes from the cultural center of Ubud, Uma Kalai is the perfect nature retreat to relax and unwind.
This private estate invites you to experience where local Balinese heritage harmoniously intertwines with modern amenities, world-class hospitality, and service.
2. The Westin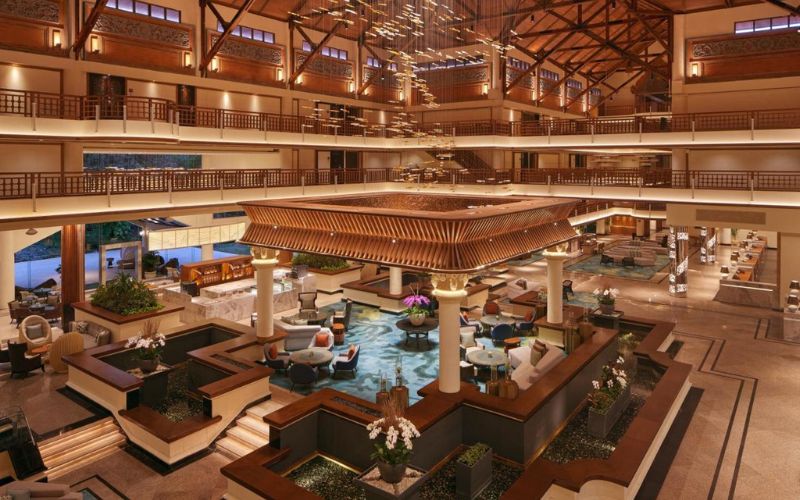 Nestled on the white sand beaches of the Indian Ocean, The Westin Resort Nusa Dua, Bali, is a contemporary hotel in a 5-star setting.
The Westin balanced hotel appeals to business travelers and vacationers alike with their warm accommodations and proximity to the Bali International Convention Center located just next door.
3. Melia Bali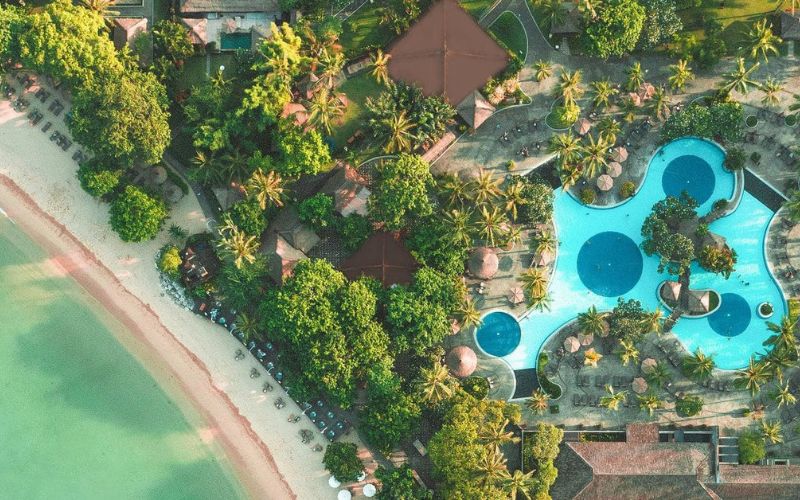 Located on the shores of Nusa Dua, Bali's prestigious resort enclave, this beachfront resort is a unique sanctuary of exotic beauty and comfort for those who seek a dream vacation.
The resort enjoys an excellent location just 12 kilometers from Ngurah Rai International Airport.
It's within walking distance to Bali Collection, the main shopping center, food and entertainment malls, a museum, 850 meters from Bali International Convention Center, and 700 meters from Bali Nusa Dua Convention Center.
4. Bulgari Resort Bali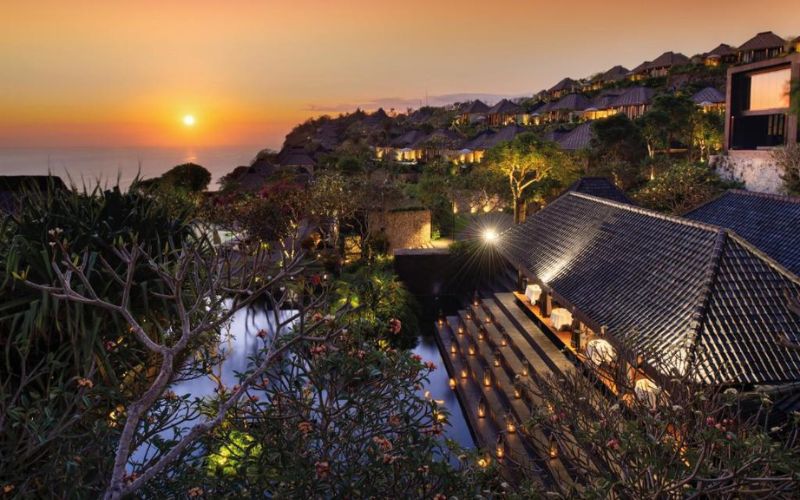 The Bulgari Resort Bali is located in one of the most exclusive destinations in the world, a veritable emblem of the tropical exoticism of the Orient.
Combining the breathtaking beauty of unspoiled nature of Bali beach resorts with a sophisticated contemporary design born from the encounter between traditional Balinese forms and high Italian style.
The quality of the services along with the views of the Indian Ocean offered by its magnificent position 150 meters over the sea are the perfect introduction to the second luxury hotels from Bulgari Hotels & Resorts.
5. The Edge Bali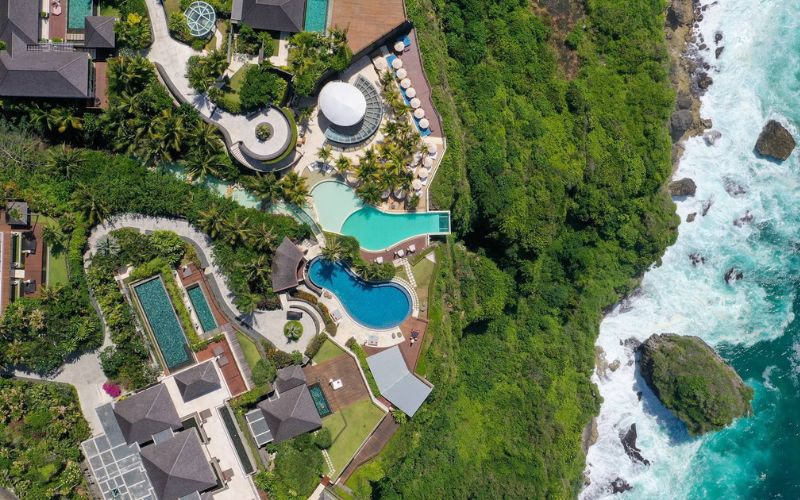 Experience tranquillity, luxury, and impeccable service at The Edge Bali. Nestled upon a clifftop in Uluwatu, Bali with breathtaking views of the ocean, this is your chance to enjoy an unforgettable romantic getaway or family holiday.
The Edge villa resort in southern Bali will allow you to immerse yourself in the best that Indonesia has to offer.
The Edge Bali team of highly-trained butlers are available 24-hours a day and will take care of you throughout your stay, while their spacious villas, spectacular sky pool, and modern facilities will leave you speechless.
6. Amandari Ubud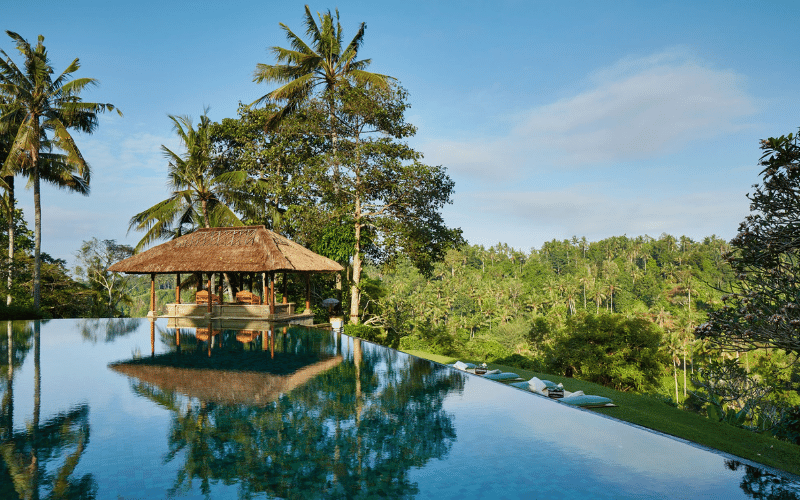 Amandari is one of the most luxurious resorts in Bali and is situated on the edge of the Ayung River. It adopts a design inspired by Balinese villages, so it's that perfect place to escape from your day-to-day hustle and seek peace and quiet.
There are many different types of villa and suites available with the resort. Some have their own private swimming pools and kitchens while others have lush courtyards, outdoor dining areas and beautiful views.
They provide tailored-made trips for their guests, like treks, visits to artisans villages and markets, excursions to temples and more.
7. The Legian Bali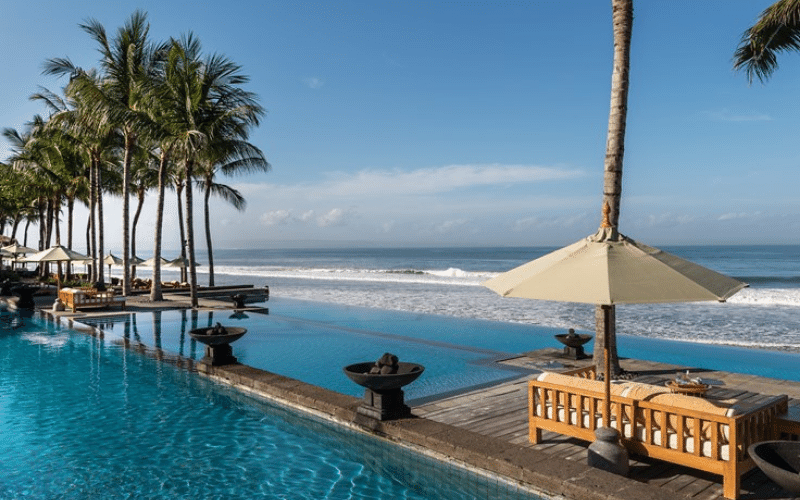 The 5-star Legian Bali is situated on Seminyak Beach. They offer beachfront accommodation for couples and families with lush tropical gardens and world-class service.
The luxurious resort provides a range of rooms and suites, all with ocean views from their furnished balconies.
The decor is created with elegance and Balinese art around the place. Other in-room amenities include Nespresso machines and Bose speakers.
If you are celebrating your honeymoon or some other special occasion in Bali, consider booking one of the pool villas with private pools and lots of tropical plants.
This resort offers a fitness center, spa, and a restaurant on-site. Amenities include an ocean-facing swimming pool, a kids' club with daily activities like origami making, and a state-of-the-art gym.
8. Four Seasons Resort Bali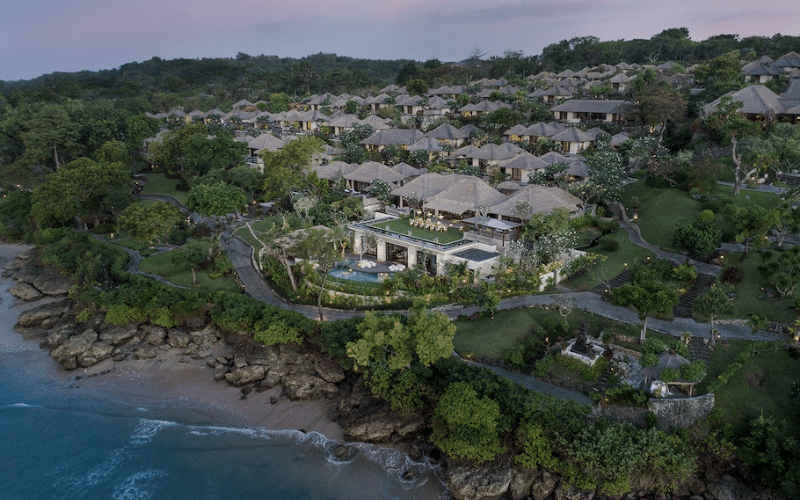 For a beachfront resort that's away from the crowds and secluded, try The Four Seasons Resort Bali at Jimbaran Bay. 30 minutes from Seminyak Beach, a five-star destination perfect for those wanting the utmost in luxury.
Accommodations here are offered in the form of swanky villas, which are done up with Bali-style art, polished wooden furnishings, and beds draped in mosquito nettings. These villas evoke a romantic feel.
One of the perks of staying at this resort is that each villa has a private pool, indoor & outdoor showers, and a kids' club with daily activities. The resort is popular with both couples & families and features villas ideal for luxury holidays or longer stays.
There are many other amenities that you can enjoy, such as the beach club and the water sports they offer, among others. There's also a spa with Balinese massages and other options.