Bali is famous for its fresh and delicious food. If you are looking for the best restaurants in Bali, Our top places to eat in the city offer a wide-range of culinary experiences. Some are fine-dining, like some of Bali's best italian restaurants, while others are leading the way in culinary innovation.
This list includes some of the highest-rated restaurants in Bali that serve all kinds of cuisines you can think of.
Looking to unwind after an intense trips and where to eat best foods in Bali? Check out our favourite restaurants with gardens, beachfront and Bali rooftop bars.
Best Restaurants in Bali 2023
1. Sa'Mesa Bali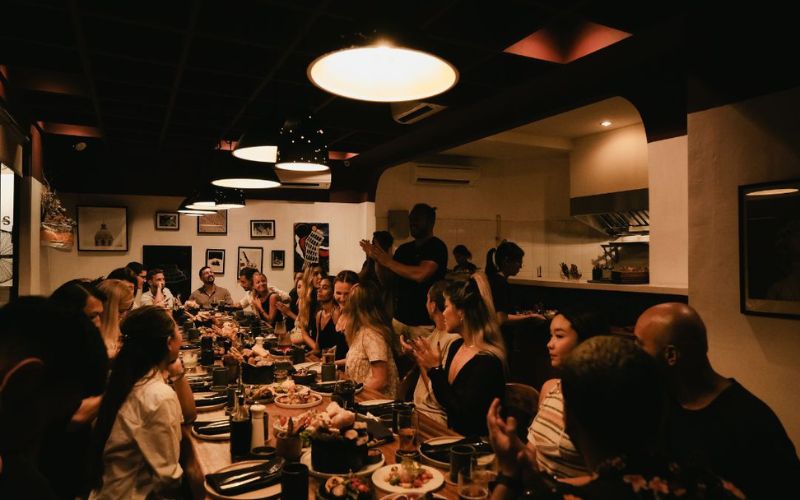 Sa'Mesa Bali is an Italian restaurant that serves authentic Italian cuisine. The restaurant has a modern and cozy ambiance, offering a comfortable family dining experience.
Sa'Mesa Bali is one of the best Italian restaurants in Bali. The restaurant serves dishes in a spectacular, inviting atmosphere that is perfect for families or groups of friends looking to enjoy quality time together.
Address: Jl. Tanah Barak No.1e, Canggu, Kec. Kuta Utara, Kabupaten Badung, Bali 80351
2. Ankhusa Restaurant Ubud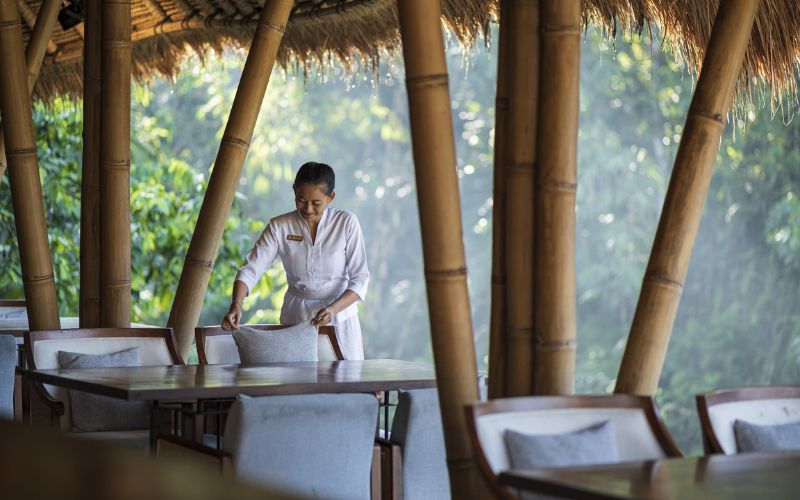 Ankhusa is a restaurant inspired by Balinese wisdom and nature. A place where guests can experience the best Indonesian cuisine.
Located in Ubud, Indonesia, Ankhusa strives to serve authentic Indonesian menus sourced from the best and freshest local ingredients.
Address: Jl. Raya Desa Kenderan No.88X, Kenderan, Kecamatan Ubud, Kabupaten Gianyar, Bali 80571
3. St Tropez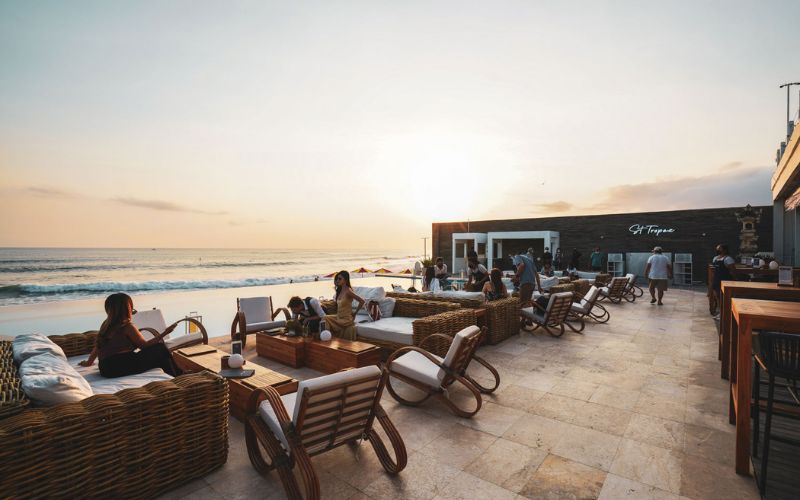 St Tropez is a French restaurant in Bali that offers a unique ambiance for the guests and provides the best dining experience.
With breathtaking water views, a focus on vibrant colors, and creative décor, every detail has been carefully considered for a supremely memorable dining experience at this iconic location.
Address: Jl. Pantai Berawa No.99, Canggu, Kec. Kuta Utara, Kabupaten Badung, Bali 90361
4. Prego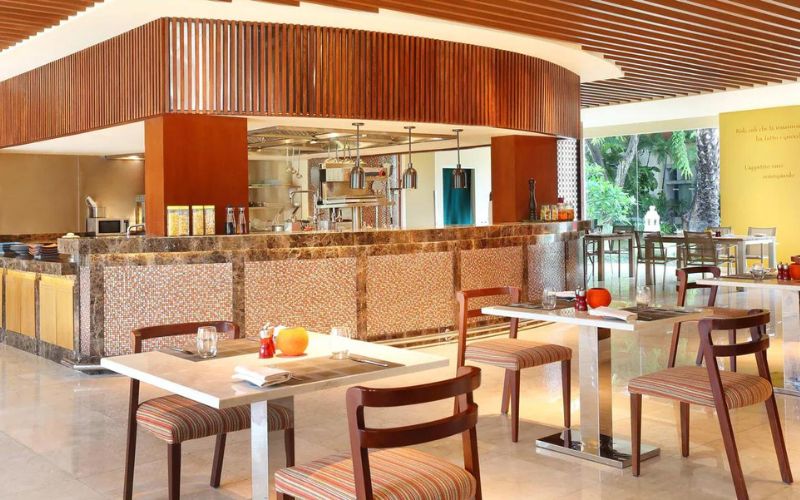 Prego is a family-friendly restaurant in Nusa Dua Bali with a perfect ambiance and amazing Italian food.
This Italian gem is popular among visitors worldwide who are yearning for a taste of Italy in Bali. The restaurant has an inviting décor that is both colorful and lively.
The aroma of their delicious cuisine also wafts through the air, tempting your taste buds as you walk in.
Address: Kawasan Pariwisata Nusa Dua BTDC Lot N-3, Nusa Dua, Kuta Selatan, Benoa, South Kuta, Badung Regency, Bali 80363
5. Koral Restaurant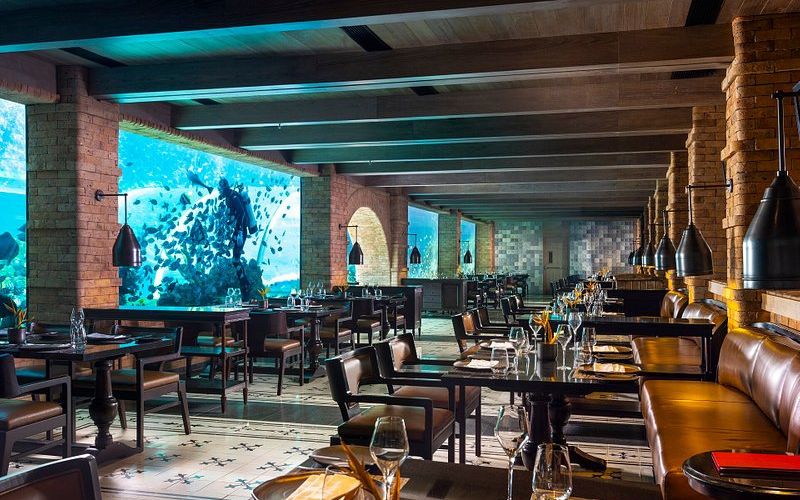 Koral is a creative, modern, and casual restaurant in the luxurious Kempinski Bali.
The restaurant is designed to provide a dining experience that reflects the beauty of Bali's relationship with the sea, invoking memories of an underwater world.
Guests are invited to indulge in chef Andrea Astone's artisan dishes, inspired by Modern Cuisine and crafted from local ingredients.
Address: Jl. Raya Nusa Dua Selatan, Sawangan, Nusa Dua, Kabupaten Badung, Bali
6. Soleil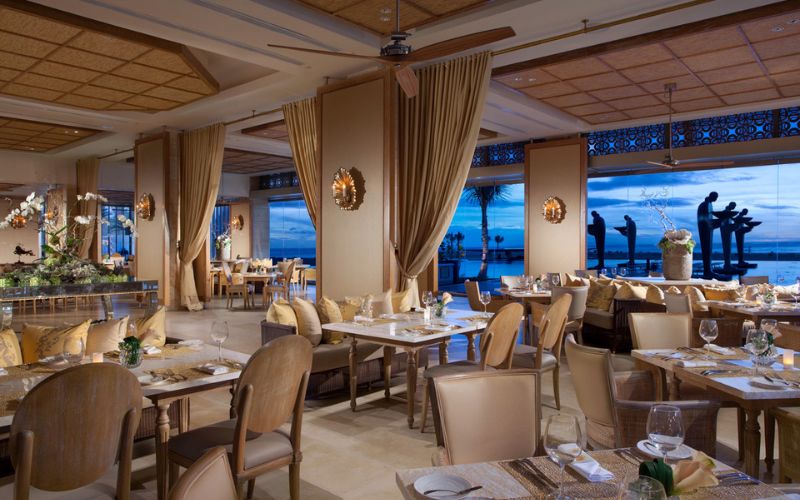 Soleil is an exclusive beachfront restaurant serves up Mediterranean and Pan Asian flavours.
Outdoor seating overlooks the ocean while indoor seating allows you to enjoy the fresh air while listening to live music entertainment.
Soleil is not just about the food but also about the ambience and service.
Address: Mulia Resort, Kawasan Sawangan, Jl. Raya Nusa Dua Selatan, Benoa, Kec. Kuta Sel., Kabupaten Badung, Bali 80362
7. Izakaya by OKU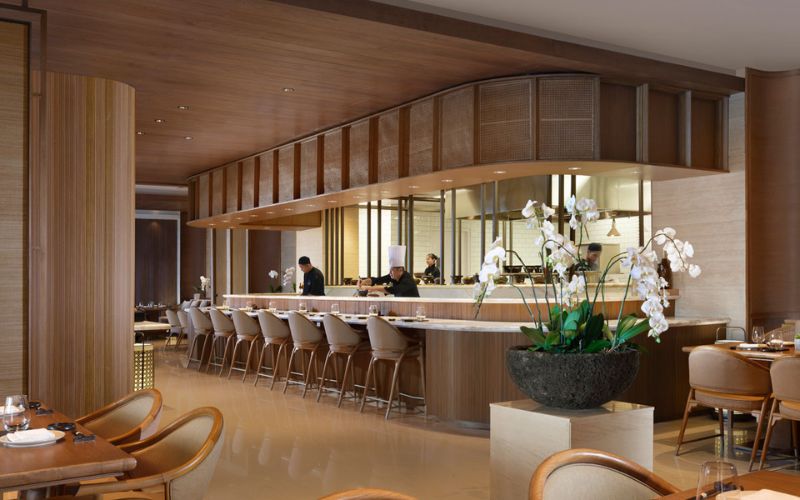 Izakaya by OKU is a Japanese restaurant in Bali, Indonesia. It offers a bistro-chic and open-kitchen dining experience.
The food is carefully crafted, with the goal being to emphasize flavourful combinations that are dynamic, intriguing, and filling.
The atmosphere at Izakaya by OKU is also essential as they want anyone visiting their restaurant to feel welcome, relaxed, and at home.
Address: Jl. Raya Nusa Dua Selatan, Sawangan, Nusa Dua, Kabupaten Badung, Bali 80361
8. Kubu Restaurant Bali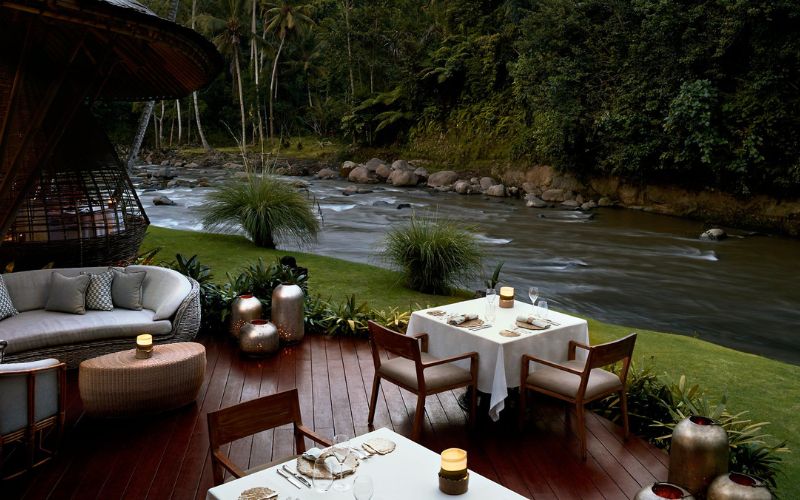 Kubu restaurant is our next list Bali best restaurants located in the heart of Ubud, a perfect example of local Balinese craftsmanship with a modern twist. The restaurant offers scenic riverside views and fine Mediterranean-European dining.
Whether you are looking for dinner or a romantic dinner spot, Kubu Restaurant is the one-stop for all your needs.
Since it's a dinner-only venue, it optimizes diners to enjoy a more glamorous experience with an open-air restaurant that gives you a sense of being one with nature.
Address: Jl. Raya Kedewatan, Banjar, Kedewatan, Kecamatan Ubud, Kabupaten Gianyar, Bali 80571
9. Cuca Bali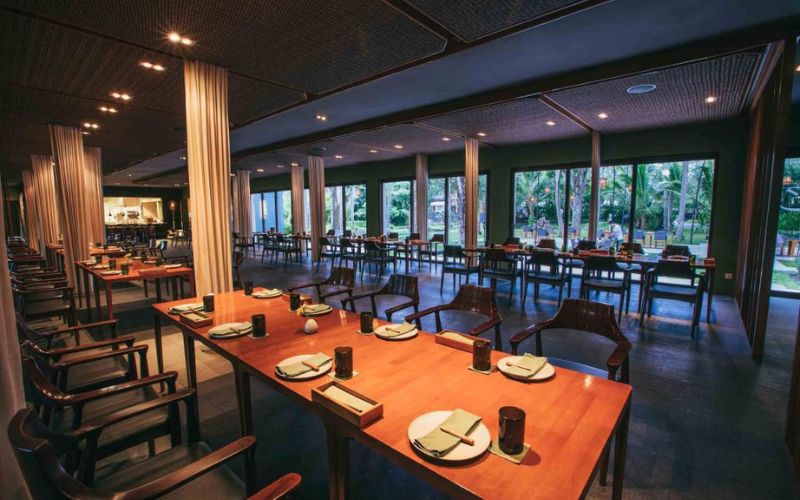 Cuca Bali is a best restaurants in Bali that has a unique hybrid of eastern and western cooking styles. The Balinese culture inspires the interior, and the menu serves dishes with the best quality natural products.
This restaurant has been recognized as the best foodie destination in Bali and one of the world's finest restaurants.
The restaurant offers a variety of dishes ranging from light breakfast dishes to lunchtime favorites to late-night dining options and even vegan-friendly menus for guests looking for an ethical meal.
Address: Jl. Yoga Perkanthi, Jimbaran, Kec. Kuta Sel., Kabupaten Badung, Bali 80364
10. Kayuputi Bali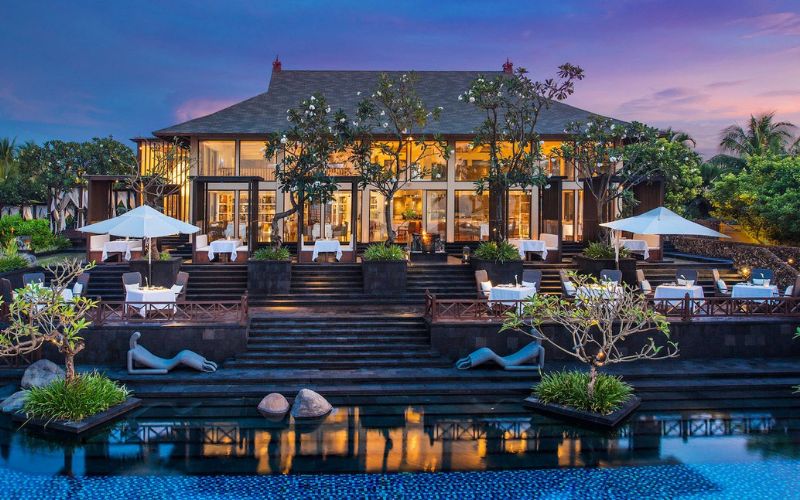 Kayuputi Restaurant is one of the finest dinings in Bali. This restaurant provides an exceptional dining experience through its fine cuisine, elegant ambiance, and impeccable service.
The restaurant offers a fusion of Pan-Asian-inspired cuisine while being served under an airy modern pavilion with a stunning view of the Indian Ocean and Nusa Dua beach.
Address: Kawasan Pariwisata, Nusa Dua, Badung Regency, Bali 80363
11. BLANCO Par Mandif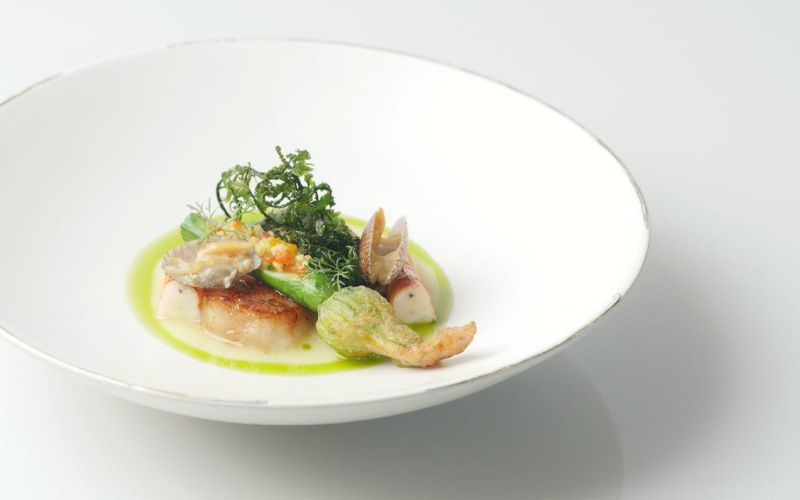 BLANCO Par Mandif is the next luxurious restaurant in Bali that offers an unforgettable experience. The elegant dining room is light, airy, and sophisticated, providing a welcoming place to dine with family or friends.
You will enjoy the finest Indonesian cuisine with authentic flavors while experiencing an unparalleled ambiance.
12. Hujan Locale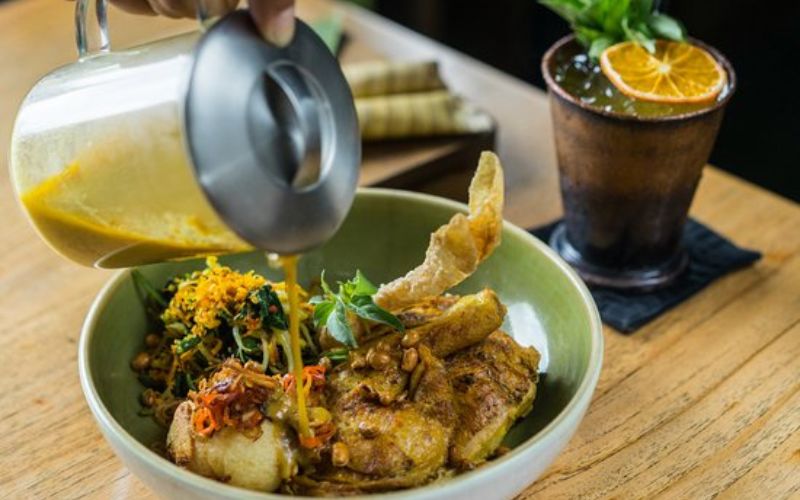 This restaurant is both family-friendly and great for special occasions. You can find traditional, Asian-inspired dishes or serve yourself at the buffet for a la carte dining with some dishes featured on the menu by Hujan Locale.
13. Apéritif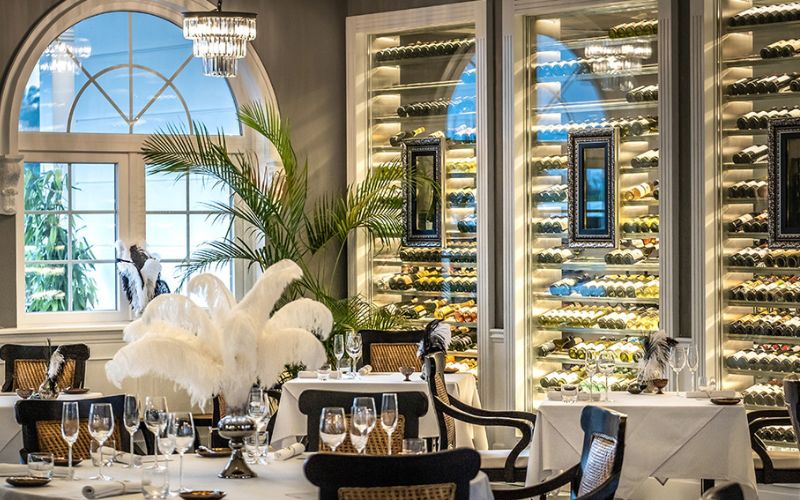 Located in the lush jungle valleys of Ubud. Apéritif restaurant offers a spectacular ambiance of Ubud and focuses on locally sourced ingredients.
It is the ultimate exploration of food and flavors for those who have never been to a degustation-only menu. The menu consists of many dish without any repeats, with each class bringing new tastes and textures.
The cocktails in Apéritif are the stars of the show here. The menu offers an impressive selection of drinks, all with a creative twist. Award-winning bartender Ran Van Ongevalle is in charge of the libations.
14. SI JIN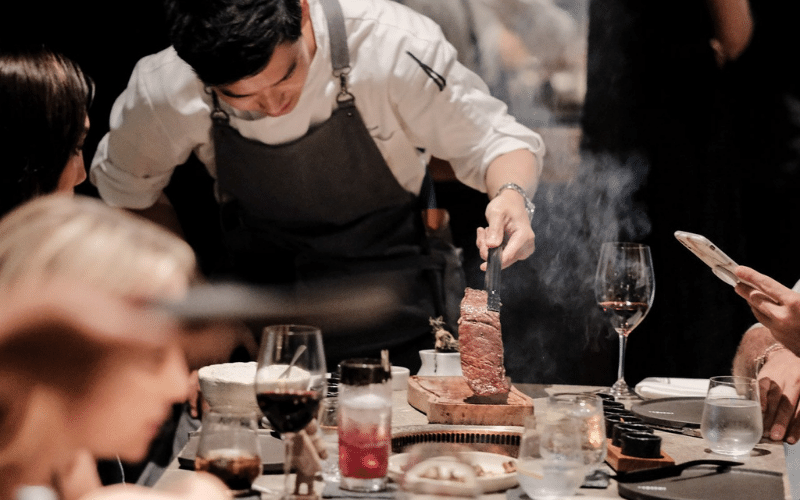 Si Jin is a chic Korean steakhouse. With an average 3-month waiting list, Si Jin is a restaurant you should know about. And the wait is worth it. They do some pretty sophisticated international cuisine and always have a discerning crowd of high-society people there.
You must try their aged Sumatran rib steak, black striploin, and their signature Koran namul dish – don't miss it! The cocktails are delicious, too. Try the Tipsy Jamaican!
Si Jin, Jl. Lebak Sari no. 18 Petitenget, Kerobokan
15. Mama San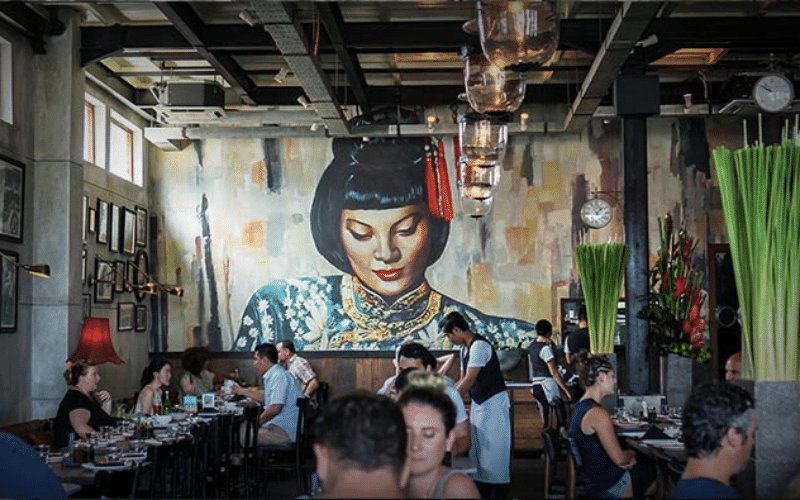 Mama San is the sister restaurant to Sarong, and it firmly put celeb chef Will Meyrick on the culinary map. Mama San is a more casual space than the Sarong flagship, and it's all about shared street food, cocktails, and raw food. The ambiance is also funky; we're talking Shanghai meets gentleman's club here.
The restaurant is jam-packed every day, which only reinforces its fantastic reputation.
Mama San, Jl Raya Kerobokan No.135, Seminyak
16. Api Jiwa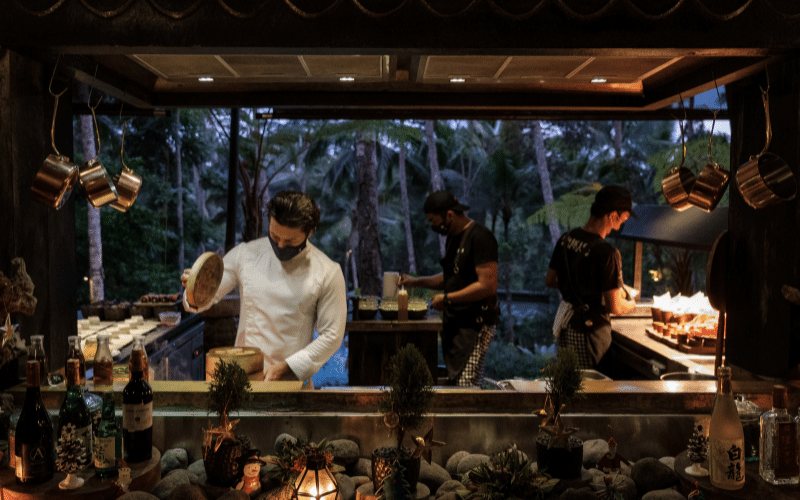 Part of Capella's refined tented camp, Api Jiwa is a unique culinary experience with an interactive & intimate Asian barbecue restaurant. The name means 'soul of fire' in Sanskrit. Surrounded by lush rainforest, Api Jiwa invites you for a culinary journey in an enriching style that focuses on texture and flavor.
Premium cuts of meat and seafood from Australia and fish from the nearby ocean are cooked with spices from the camp and organic veggies from surrounding farms. The Chef will create a unique, meticulous tasting menu just for you. It'll be an Omakase experience!
Api Jiwa, Jalan Raya Dalem
17. Tanaman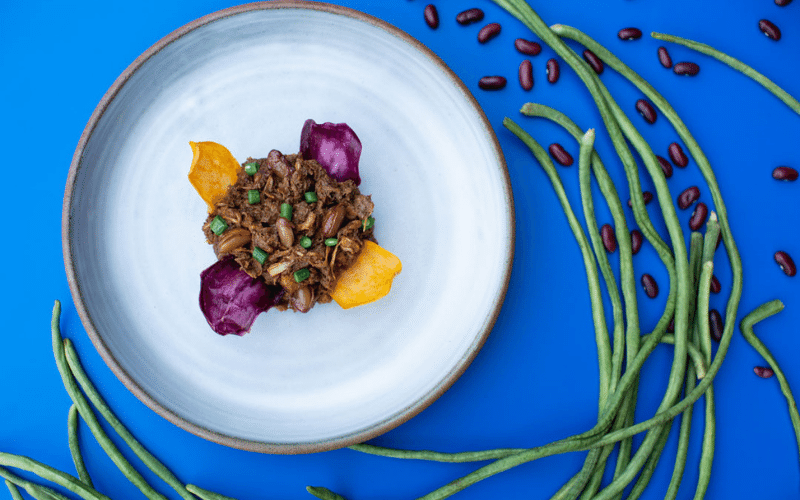 The Potato Head Family are well known for making a mess of boundaries and smashing minds. Still, Tanaman isn't any different – the game-changing vegan restaurant with a teleporting soundscape that has set up an otherworldly venue.
As for the menu, each dish is born from a deep respect for plants – from the root to the fruit – and they honor every humble ingredient while elevating them to new heights. You can enjoy nine courses of tasting menu every season that incorporates food with one of Indonesia's five elements.
They are earth, water, fire, air, or space. One can look forward to an adventurous and delightful dining experience. Consider their delicious cold-smoked coconut labneh with Lacto-fermented passion fruit or the aromatic shio koji tenderized watermelon.
Of course, we can never forget the dehydrated seed cracker with sweetened onion cream and fermented mango chili. It's Chef Dom Hammond's way of honoring Indonesia's most natural ingredients by turning them into a multi-sensory dining experience. All of this is best enjoyed with Tanaman's carefully crafted cocktails.
18. The Plantation Grill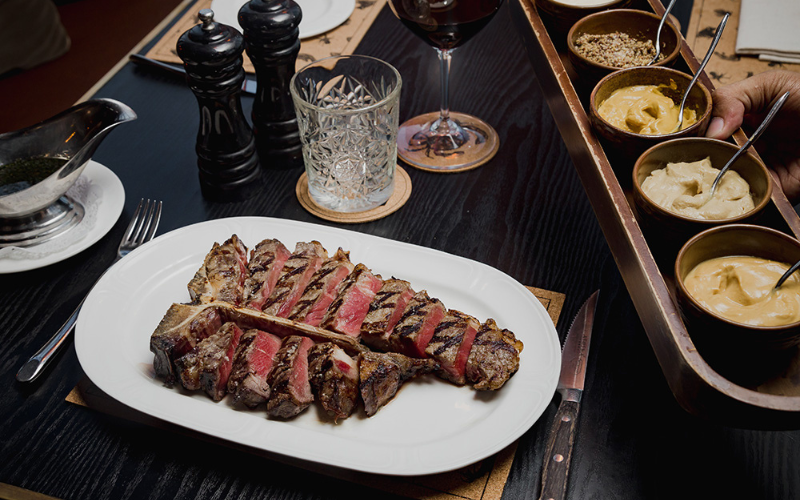 The Plantation Grill is a luxury restaurant at The Double-Six Luxury Hotel in Seminyak with a spectacular setting and menu.
When you come to Relish, try their gourmet goodies like oysters, T-Bone steaks, jumbo Tiger prawns, and grilled crispy pork belly – cooked over custom-made coal and wood grills and wood-fired ovens.
For dessert, you can't miss the Bombe Alaska. It's a really sweet treat, so be sure to try it! Afterward, head up to the stylish Sunset Bar for a nightcap made by one of their expert bartenders.
The Plantation Grill at Double-Six Luxury Hotel, Jl Pantai Legian Jl Double Six No. 66, Seminyak
19. Skool Kitchen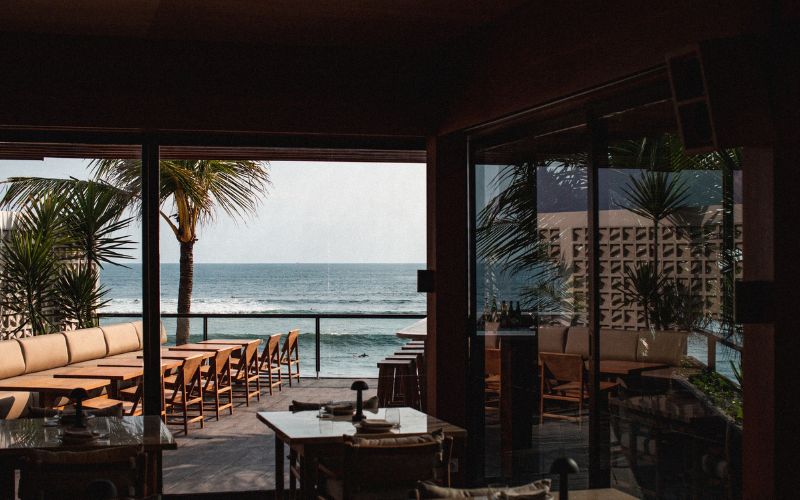 Supported by some of Bali's most famous foodies (and situated above the most fabulous location for ocean views), Skool Kitchen is the newest restaurant by Tai Buddha and Adam McAsey.
Every dish is created using fire as a primary cooking method. This restaurant has an approach to cooking that is both honest and classic while maintaining a contemporary element. Their menu is influenced by the use of natural wood & charcoal cooking flames.
Try the lamb – it's been roasted for over three days and is marinated in garlic, yogurt, and other spices before being hung over the fireplace to cook slowly.
Skool Kitchen, Jl Pura Dalem, Canggu
20. Uni Restaurant & Bar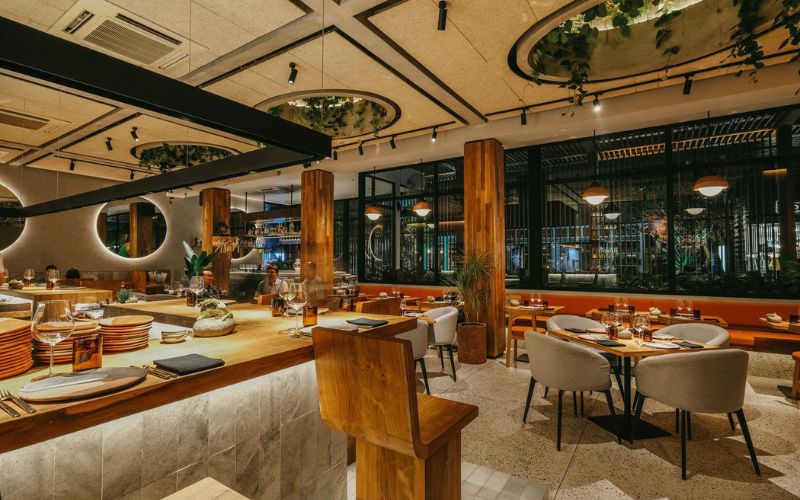 A fantastic new dining experience has opened up in Bali. It's called Uni Restaurant – a very fine eatery in Berawa. You'll find it from Mexicola Group, led by star chef Steven Skelly and drinks guru Nicolas Lento.
With a 70-seat capacity and design-savvy feeling, this "casual fine diner" is ready to make the finest dining. The food is innovative but offers some options you commonly associate with Asian cuisine.
Along the walls are pieces of eclectic artwork, giving it an Asian twist with contemporary techniques on the menu. Expect locally sourced seafood and vegetables with a Japanese and French influence.
One dish is Uni coddled egg with sherry vinegar cream and caviar, featuring BBQ octopus with mustard glaze and braised radish. Tuck into something a bit different, like salmon confit, served with leeks on top.
Best tip: graze through the à la carte menu or go all out with one of our 5- or 9-course tasting menus, best shared and paired with our experimental cocktails, sake, natural wines, and even a tea pairing menu.
21. The Octagon Uluwatu
The Octagon Uluwatu Restaurant is a charming dining venue located on the southern coast of Bali, Indonesia. With spectacular views of the Indian Ocean and the waves rolling below, this restaurant combines natural charm with high-quality cuisine.
Octagon Uluwatu Restaurant has a modern architectural design with an octagonal main building offering panoramic views of nature, creating an outdoor space while enjoying delicious dishes.
With the ability to accommodate up to 250 pax, The Octagon offers more than just a dining and relaxation haven; it also serves as a unique venue for private gatherings, weddings, and corporate events, nestled within a natural oasis.
Once you've made your menu selection, savor the Indonesian beef rendang tacos or the vegetarian tempeh steak, both of which come with a delightful touch of local spice.
22. El Merkat Bali
El Merkat draws inspiration from the renowned Spanish market, El Mercat de la Boqueria, focusing on the use of top-notch, locally-sourced ingredients to satisfy both the heart and soul.
This laid-back and casual establishment perfectly captures Bali's carefree spirit. With a trendy canteen featuring a large open kitchen inside, a sheltered lush terrace for all-weather enjoyment, and a nearby deli, it's easy to grab snacks for your journey.
For those who like open-air dining, El Merkat offers a verdant terrace that's protected, allowing you to relish your meal no matter what the weather conditions may be, whether it's raining or sunny. Furthermore, a conveniently situated deli is just a short stroll away, providing irresistible snacks for those on the go.
23. Tickled Pink
Tickled Pink Canggu is a stylish eatery located in the heart of Canggu, Bali, renowned for its inviting atmosphere and tasty food. It boasts an eclectic menu blending international and local flavors, using fresh, locally sourced ingredients to ensure top-notch quality.
The restaurant offers signature cocktails, live music, and entertainment, making it a fantastic spot for both dining and socializing. Its strategic location near popular attractions and surf spots makes it an ideal choice for those looking to enjoy a remarkable culinary experience in a tropical setting.
Experience the spirit of Melbourne within the enchanting rice fields of Canggu at Tickled Pink Bali. Embark on a gastronomic adventure that embraces inventiveness and originality. Let your senses come alive as you're charmed by the unique allure of Tickled Pink. "So Pink and Rosy!"
24. Tanah Liat
Tanah Liat specializes in serving exquisite Indonesian cuisine, showcasing the rich and diverse flavors of the archipelago. Diners can expect authentic dishes prepared with traditional techniques and locally-sourced ingredients.
The restaurant is known for its stunning ambiance. With its strategic location overlooking the pristine beaches and azure waters of Nusa Dua, Tanah Liat offers a picturesque setting for a memorable dining experience.
The open-air design allows guests to enjoy their meals while relishing the gentle sea breeze. The restaurant's distinctive design primarily features the color white to elevate the space's pleasant and well-lit atmosphere.
The Tanah Liat team is renowned for their diligent and polite service. They make additional efforts to guarantee that diners enjoy a delightful and unforgettable dining occasion.
25. Bonito Fish Bar
Built on the majestic island of Bali, Bonito Fish Bar is more than just a restaurant – it's a destination for those who adore seafood cuisine. Engulfed in the invigorating tropical air and ethereal beauty of Bali, this eatery brings you closer to nature while tickling your taste buds with seafood delights.
The allure of Bonito Fish Bar lies not only in its awe-striking location but also in its sublime fusion of international culinary arts and fresh local catches. Foodies visiting Bali speak highly of their exquisite range, containing everything from freshly caught fish to savoring.
Aesthetically, Bonito Fish Bar reflects the seaside tranquility of Bali. Decorated with nautical-themed elements, the restaurant emanates warmth and comfort, inviting visitors into the folds of its fascination. The floor-to-ceiling glass windows encapsulate the charm of Bali by offering enchanting views of the seaside. Likewise, at night, candlelit tables contribute to a romantic yet relaxed atmosphere, making it a perfect spot for date nights or group celebrations.
Bonito Fish Bar is more than just a dining spot. It's an experience. An experience wrapped in the tantalizing aromas of delectable seafood, served alongside stunning views of the Balinese coast. This seafood heaven truly embodies the heart and soul of Bali, making each visit an unforgettable journey for the senses.
26. Amateras Restaurant
Amateras Restaurant, situated within the serene Jannata Resort and Spa, presents guests with breathtaking vistas of the Wo's River and the vibrant rain forests of Bali.
The restaurant offers an al fresco dining setting that stretches from the lobby to a terrace, affording patrons a view of the resort's primary pool and panoramic scenes of lush tropical foliage in a green valley.
The kitchen staff skillfully blends time-honored recipes with contemporary culinary methods to offer a diverse range of international tastes. We acquire fresh, organic ingredients, including fruits and spices, from nearby providers. Their premium beef is sourced from Australia and Southeast Asia, and seafood is delivered straight from the shores of Jimbaran Bay.
"Enchanting Place!"
27. Milano
Milano Canggu Restaurant, located in Canggu, Bali, invites you to experience authentic Italian cuisine. With elegant decor and a comfortable atmosphere, it provides the perfect setting to savor delicious dishes.
The another Beli best restaurant's menu includes a variety of classic Italian dishes, such as crispy-edged pizzas and pasta with delectable sauces, all prepared using high-quality, fresh ingredients. Milano Canggu also offers vegetarian options and tempting desserts.
With friendly and professional service in a romantic atmosphere, the restaurant is ideal for romantic dinners, gatherings with friends, or special occasions like birthdays and celebrations. If you're seeking an authentic Italian dining experience paired with beautiful surroundings, Milano Canggu is the perfect choice.
28. Segno
Segno Bali offers an extensive cocktail menu featuring well-crafted and perfectly balanced drinks to match Bali's perpetual festive atmosphere. For those seeking a personalized touch, our bartenders are happy to create a custom cocktail tailored to your preferences.
We pay meticulous attention to the ice in each cocktail, ensuring precise dilution control. At Segno, we use handcrafted, hand-cut ice to maintain the drink's integrity from start to finish. With an understated speakeasy-style entrance, our aim is to provide you with a thoroughly enjoyable evening.