howbali.com – As much as we love the sand on our toes and sea salt in our hair, things are a little different when you gaze out over rolling green hills or stroll through some jungle. This place offers rainforest views & jade-hued mountain peaks, so sunbathing isn't the go-to here.
Packed with ancient mystical temples and some of Bali's best restaurants, Ubud is a must-see on every island itinerary. If you're looking for a change of pace from the bustle of South Bali, Ubud should be your next destination.
From its picturesque jungles to its laid-back vibe, it's a space with plenty to offer yoga enthusiasts and history buffs alike. Ubud is also filled with healthy vegan food options, which are surprisingly common. Ubud also has a rich cultural heritage that includes art & spirituality.
People worldwide come here searching for a gorgeous destination that is good for the soul. Understandably, finding suitable accommodation can be a daunting task. Luckily we've done it for you and found some of the best hotels and resorts in Ubud to suit every budget.
From bohemian boutique style to luxury jungle dwellings, here's our list of the best place to stay in Ubud!
10 Best Place to Stay in Ubud 2023
1. Uma Kalai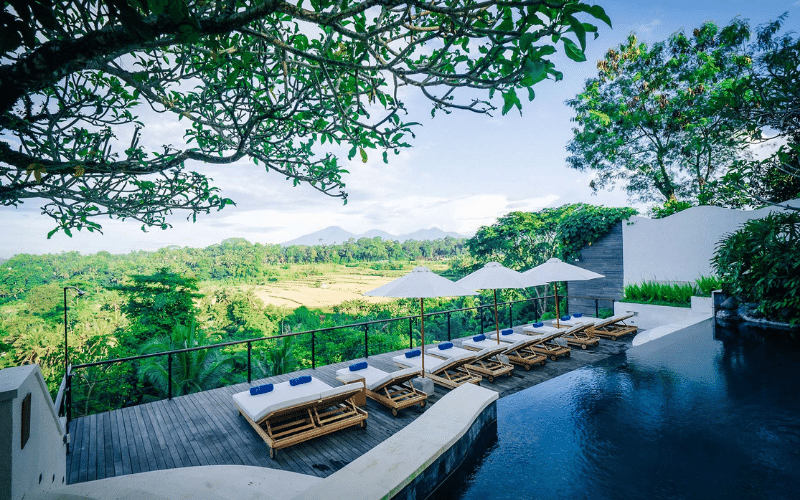 Uma Kalai is an exclusive estate situated in Ubud. Originally the home of former Yahoo CEO Guru Gowrappan, it fuses Balinese culture and natural beauty with world-class hospitality.
When you arrive, you'll have a personal butler that will lead you to your private villa or suite. They're all uniquely designed with local art, Hindu deities, and bespoke furniture.
In addition to all the luxury items you'd expect from a top-of-the-line luxury resort in Bali, Uma Kalai features four exclusive rooms for spa treatments, a library, and even a tea room. Isolated daybeds surround the infinity pool for Uma Kalai's guests.
The scenery is mesmerizing – an unobstructed view of green rice paddies & mountains. Some say it's hard to leave this stunning resort, but if you can tear yourself away, you should head out into the forest and go on Uma Kalai's hand-selected local adventures.
These include a purification ceremony or canyoning down waterfalls. When you stay at such a fantastic property, don't be surprised if you can't bear to leave.
Uma Kalai, Sayan, Ubud
2. Capella Ubud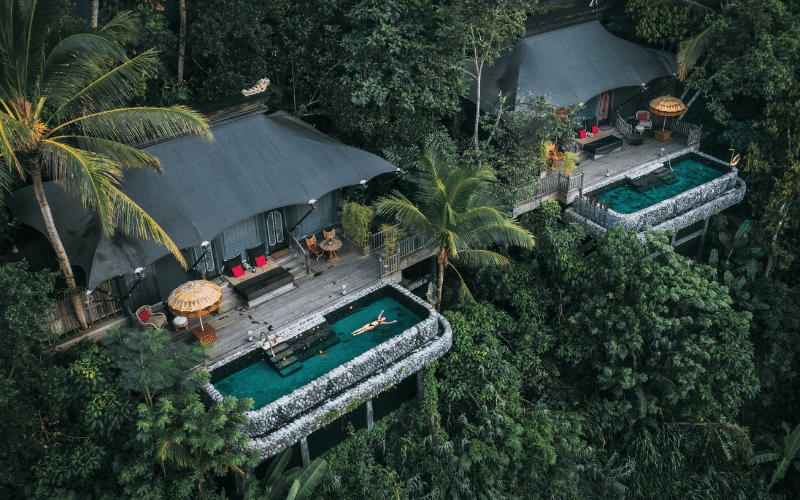 Capella Ubud, a jungle-tangled haven, is a sublime twist on the fun and adventure of camping that begins with a welcome duffle bag containing your camping essentials.
After crossing the suspension bridge to your tent cabin, you can feel like you're in paradise. You can do a bunch of fun stuff at the top of Keliki Valley in Ubud.
You can have a private saltwater pool and cool drinks at night. It's great for a romantic holiday! And psst- foodies, you'll love Capella's neck-to-tail signature restaurant, Api Jiwa.
It's no surprise that in 2020, Capella Ubud was named the Best Resort in the World, Asia, and Indonesia by Travel & Leisure!
Capella Ubud, Jl Raya Dalem, Banjar Triwangsa, Desa Keliki, Tegallalang, Gianyar, Ubud
3. Four Seasons Resort Bali at Sayan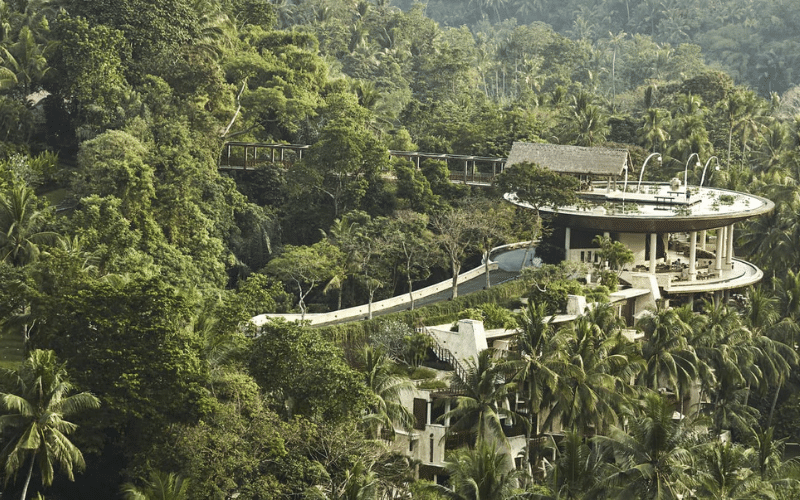 Four Seasons Sayan was designated the world's best hotel in 2018 by Travel + Leisure. It is a five-star escape from reality in nature, with lavish amenities and impeccable service. You will feel right at home in this relaxing sanctuary.
Just cross the footbridge and enjoy your stay in the lily ponds, which help make you feel sheltered from the outside world. Wind your way through this forest, past the restaurant with a jungle-facing view, and you'll find just a few suites and villas fit for VIPs (with their plunge pools & in-room tubs).
Four Seasons Resort Bali at Sayan, Jl Raya Sayan, Sayan, Gianyar
4. Hanging Gardens of Bali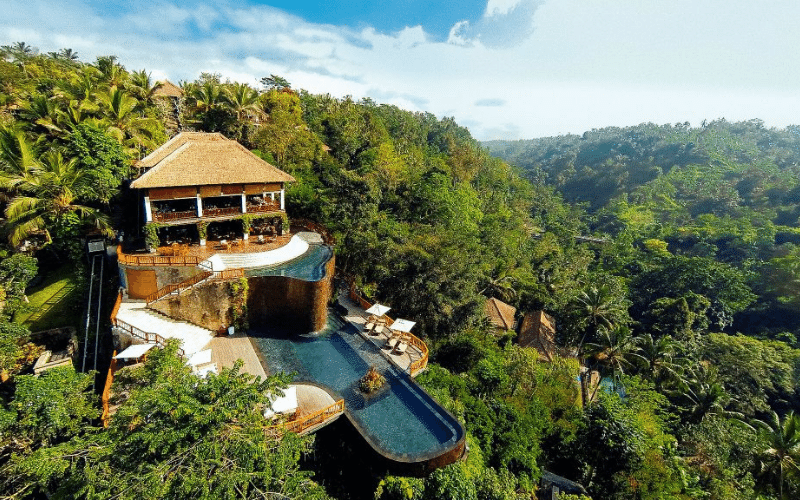 Hanging Gardens is seriously gorgeous, with green hills and a jungle backdrop. You'll want to take lots of photos here because the scenery constantly changes.
Imagine your Instagram feed filled with the beautiful sights of Mother Nature – from the bright and sunny mornings to the misty afternoons and even cotton-candy sunsets.
Twinkling stars in a deep dark jungle – there's so much beauty to see when you stay at Hanging Gardens! This Bali luxury resort has beautiful architecture and breathtaking 1000 sqft—rooms with private pools.
Hanging Gardens of Bali, Desa Buahan, Payangan, Ubud
5. Alila Ubud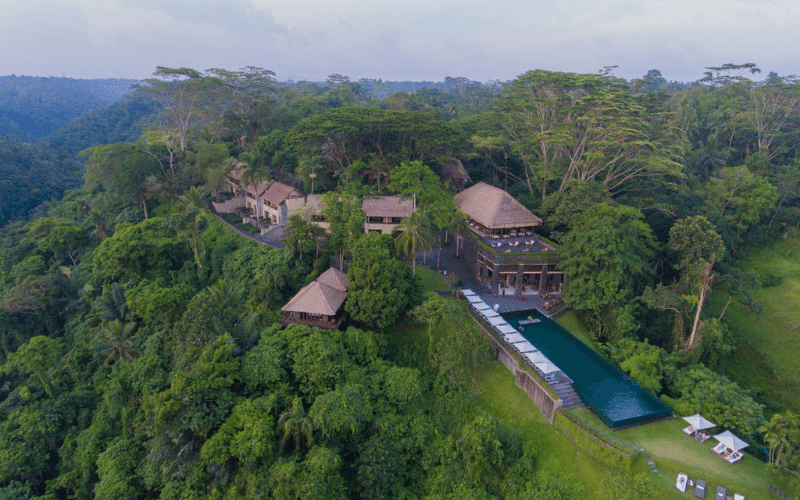 Alila Ubud can help you get the most out of your time in Ubud by providing tailor-made activities and help with the on-site concierge. Alila makes sure to help you tick off every box on your bucket list.
You're sure to find a journey you love here. Whether discovering hidden temples, learning about sacred rituals, or rafting down rivers, they'll tailor your stay to suit you.
But if you prefer to while away your days in the hotel's luxurious surroundings, you can always relax in the dreamy sky-high infinity pool or lie back and enjoy the views from your villa.
Alila Ubud, Desa Melinggih Kelod, Payangan, Gianyar
6. Bisma Eight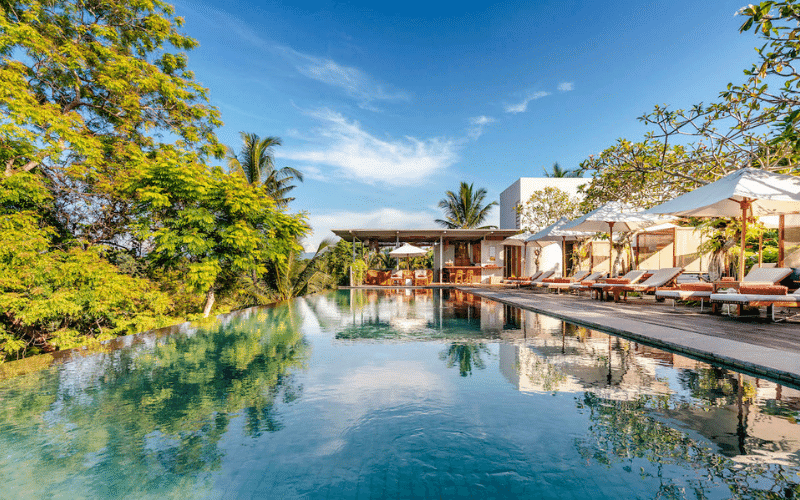 Bisma Eight blends traditional Bali with luxurious and modern elements. The design is a compilation of traditional and contemporary architecture. Thirty-eight rooms cover a lot of different styles, including heritage-style, minimalist chic, and Art Deco retro.
Inside the hotel, you can crawl into oversized bathtubs shaped like barrels. There are also unique crafts from local artisans scattered about.
Step outside, and the infinity pool stretches out to meet Ubud's lush valleys, where modern amenities and designer cocktails blend seamlessly with the untouched jungle landscape.
If you want to get the best of Bali while also feeling all the luxuries of a boutique resort, Bisma Eight has everything you need.
Bisma Eight, Jl Bisma, Gianyar, Ubud
7. Hotel Dinara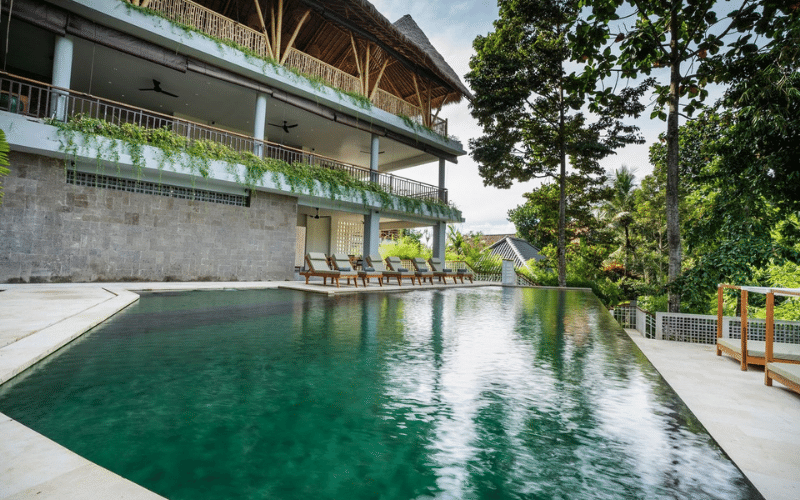 Hotel Dinara is a boutique lifestyle hotel blends contemporary designs with traditional Balinese accents. It's perfect for savvy travelers who want the best of both worlds: A cultural island experience with stylish comforts to come home to, too.
With only 30 luxury rooms and two private pool villas, the hotel provides a tranquil home just for a getaway. The people working there are known to be hospitable and friendly.
The furnishings and textiles are customized, hand-dyed, and more-or-less Balinese. You can't go anywhere without seeing the work of Bali's top artisans.
The resort also includes some immersive cultural experiences. They might consist of a cooking class, a purification ritual, or even a lesson on how to make offerings.
Hotel Dinara – Ubud, Jl. Sri Wedari No. 58, Ubud
8. Fivelements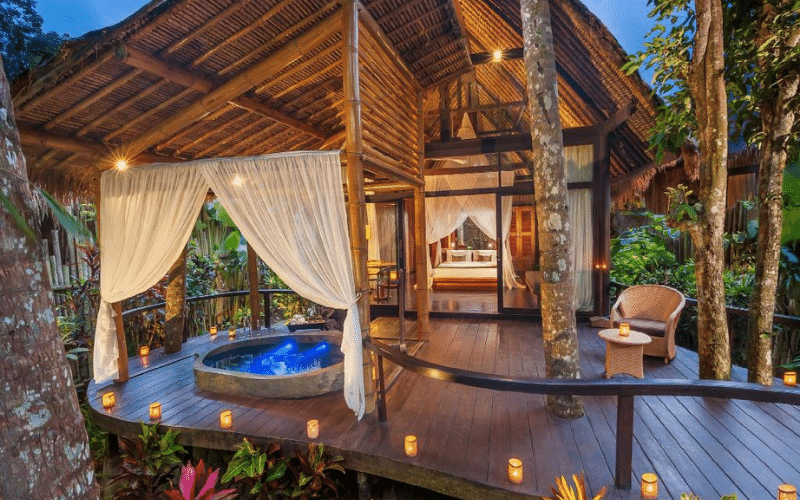 Fivelements is a vegetarian eco-resort that offers a serene escape from your daily routine. They have won the hearts of many free-spirited luxury travelers, and we are sure they'll win yours too.
This boho-chic, sustainable abode of nine bamboo suites is named after the five elements of the Balinese world. The project sits in tranquil contrast to the frenetic outside world. You can find a ton of different options for holistic wellness programs here.
Isn't nobody going to kill your vibe? There are various healing traditions, including modern and traditional practices like Chakra balancing, Prana healing, holistic massage, reflexology, and Balinese purification rituals.
Fivelements, Puri Ahimsa Banjar Batur Rening, Mambal, Ubud
9. The Ubud Village Resort & Spa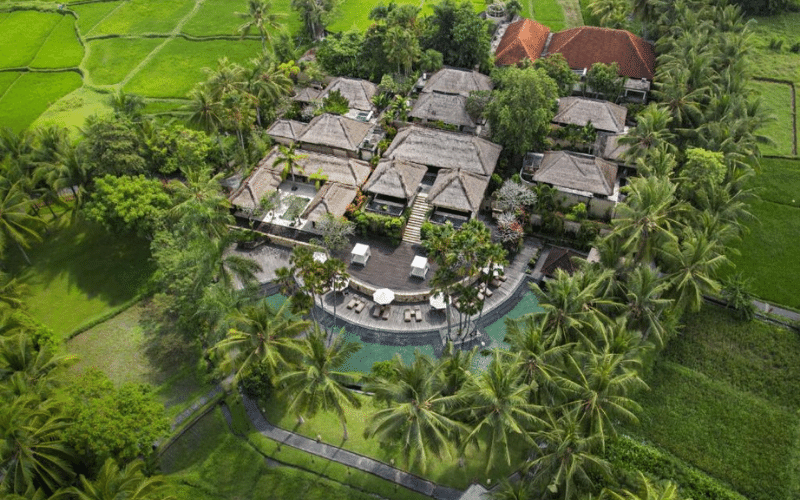 The Ubud Village Resort is an oasis of peace and romance. The 14 acres of wooded fields are the home to some enchanting villas with private gardens, perfect for cozy evenings and outdoor baths to keep cool in Bali's hot climate.
The resort has strategically landscaped lawns surrounding plenty of coconut & lotus trees. A central infinity pool frames the view of green rice terraces all around. Designed with sustainability in mind, the Ubud Village is all about celebrating Bali's culture and the beauty of nature.
It's only 10 minutes from Ubud's center, which makes it an ideal place for couples visiting.
The Ubud Village Resort, Jl Raya Nyuh Kuning, Pengosekan, Ubud
10. Kaamala Resort Ubud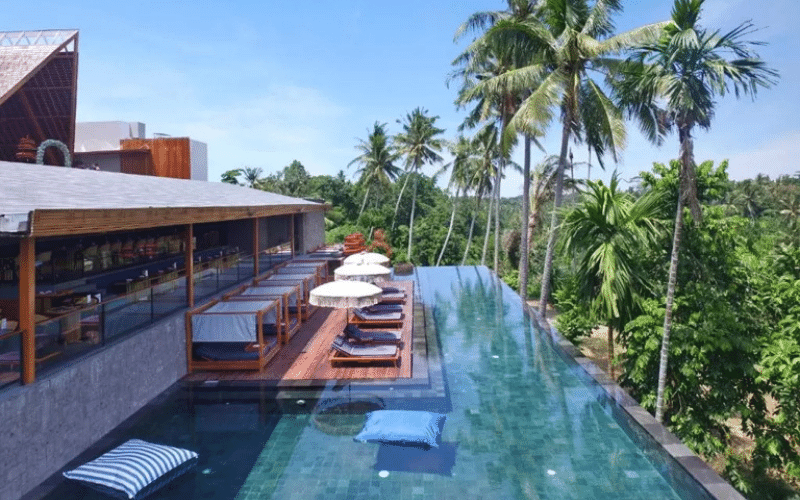 Kaamala Resort is situated in the core of Ubud. You won't see it until you see the rice fields and green jungle. When you figure out how close Ubud's restaurants and tourist attractions are, it will make your stay much more accessible.
This hotel can't be beaten when it comes to romantic design. Besides the dreamy tubs, there are also private pool villas and a restaurant with great views overlooking its infinity pool. If you're looking for something cultural, nearby festivals, offer just that!
We love the design of this resort; some of the furniture even has a "homey" feel, like hammocks, blankets, and daybeds.
Kaamala Resort, Jl Bisma No 888X, Ubud