howbali.com – Looking for the Best Bars in Canggu?
Located in the north of Bali and known for its tropical climate and beautiful beaches, Canggu is a popular destination for native digital nomads and tourists.
Canggu is also home to foodies who looking for the best restaurant in Bali. Once visitors have had their fill of water recreation, the city offers a vibrant bar scene.
From breezy beachside bars or laid-back breweries to glitzy upscale venues with specialty craft cocktails, there is something for everyone to enjoy.
Let's explore some of Canggu best bars! Visitors can enjoy the beach, sunset, and unique shops further inland.
10 Best Bars in Canggu You Gotta Visit
1. Bam Bam Bali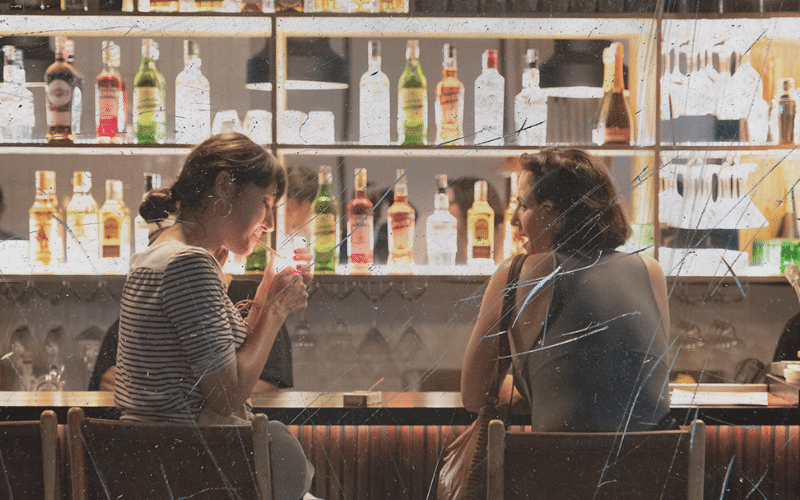 Bam Bali has just opened up in Berawa, Canggu for people who love vinyl. They have live DJs to play your favourite classics and offer a small selection of local craft beers with cocktails. A classy space with a Vinyl Rhythm vibe!
If you're looking for some great music, delicious food and drinks, or just want to come in a have a chat , then stop by Bam Bam Bali every evening.
They will bring out their vinyl line-up of live bands and DJs.
Bam Bam Bali, Jl. Pantai Berawa No. 53
2. Black Sand Brewery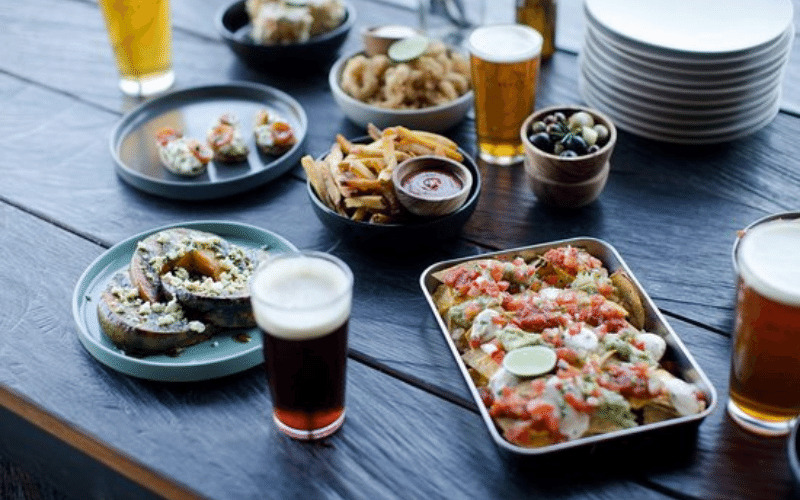 Black Sand Brewery was what the island of Bali was missing. They have a fantastic drink menu, with plenty of beers and cocktails, and who knows, maybe even more things in store for their customers.
Inspired by beers from all over the world, Black Sand Brewery has three types of IPA, a German Kölsch brew, an English Amber Ale, and a Belgian beer.
Best of all: these are just some of their offerings! The food here is no joke. Besides delicious beers, they also serve bistro-style dishes like wholegrain pizzettas topped with seasonal vegetables and miso-glazed octopus.
You should also try a brisket taco for lunch on a day when you feel adventurous! Located right by the rice fields, you can experience the beautiful scenery while enjoying your drinks and a laid-back atmosphere in this area.
The lush green space provides a Balinese community vibe, fantastic crowds and an easy-breezy beer garden.
Black Sand Brewery, Jl Batu Bolong, Canggu
3. Ji Terrace by the Sea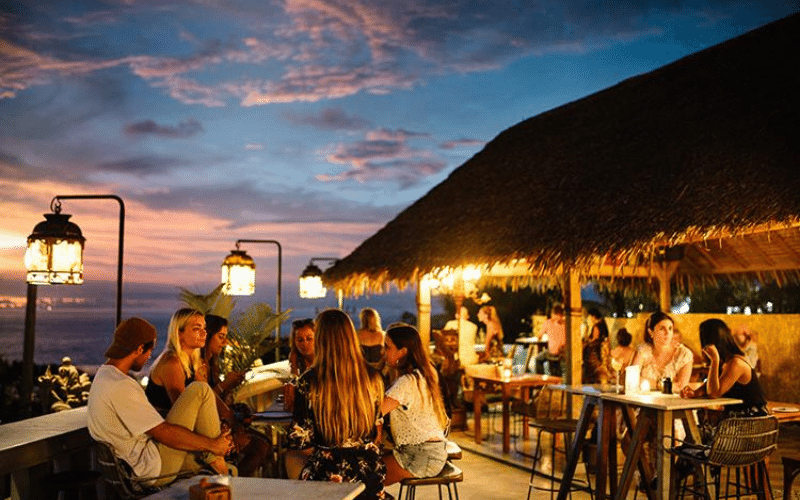 The view from Ji Terrace by the Sea is among the best in Canggu, and it's not just their food that holds its own.
In addition to some classics, the cocktail list has many imaginative Asian-infused drinks, tasty for any time of day.
On Thursdays, the top DJs spin the best sunset tunes on the upper level. During the day, grab a glass of wine or sake and look at their fantastic selection.
Ji Terrace by the Sea, Jl Pantai Batu Bolong, Canggu Beach
4. The Barn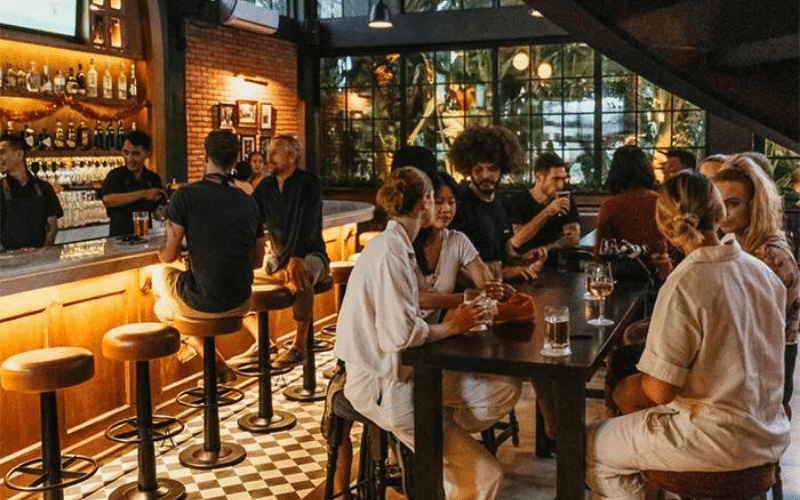 If you're looking for a place to relax after a day of exploring, come to The Barn, where you'll find a fantastic British-style gastropub and sports bar.
Traditional pub-style food here includes fish and chips, bangers and mash, beef burgers, imported wines, and signature cocktails.
Start the weekend off with Old Skool Fridays – two-for-one cocktails and Hip Hop and R&B tunes courtesy of the live DJ – then come back again on Saturday for more drinks deals before finishing it all off with a classic Sunday roast.
The Barn, Jl Lingkar Nelayan No. 8, Canggu
5. Leblon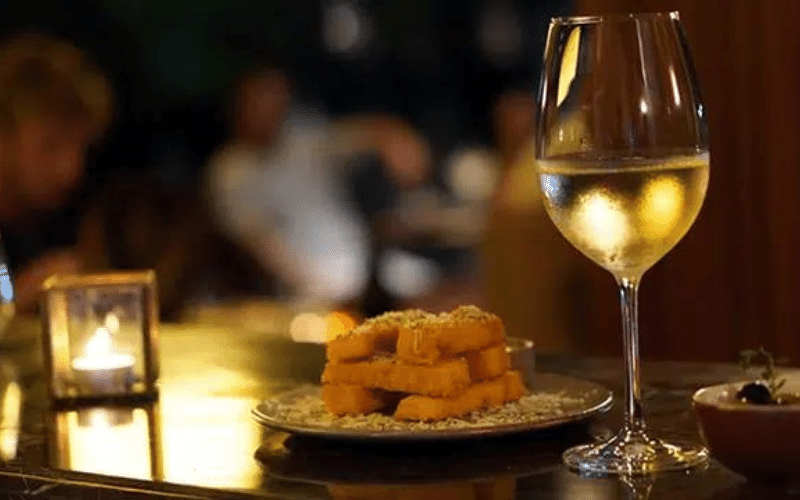 Doubling as both an aperitivo lounge and bar, this restaurant-come-lounge at the heart of Pererenan, Leblon, transports you to Rio De Janeiro with its tropical vibes.
Leblon is the ideal place for both seeing sunsets and having a drink. It features a plush interior design with indoor & outdoor seating.
Try the classic Caipirinha, the Gourmet Caipiroska, or one of their lovely wines. It goes perfectly with tapas, grazing plates, and appetizers like crispy empanadas, halloumi with honey, and chili & garlic prawns.
Leblon, Jl Pantai Pererenan
6. Deus Ex Machina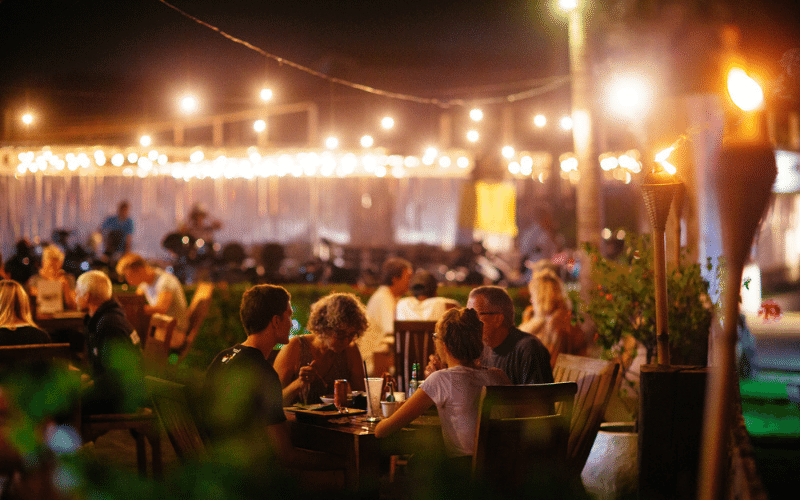 Whether you're a motorbike enthusiast looking for the perfect photo backdrop or want to skate some ramps, this place has got you covered.
This trendy bar has something for everyone. Whether you're a motorbike enthusiast, looking for the perfect photo backdrop, or want to skate some ramps, this place has got you covered.
It might be a good idea to start with a cold beer, but don't forget their delicious cocktails. Sunday night is when this venue comes alive. Come with friends, bring some tunes, and shake your thing to the beat.
Deus Ex Machina, Jl Batu Mejan No. 8, Canggu
7. The Lawn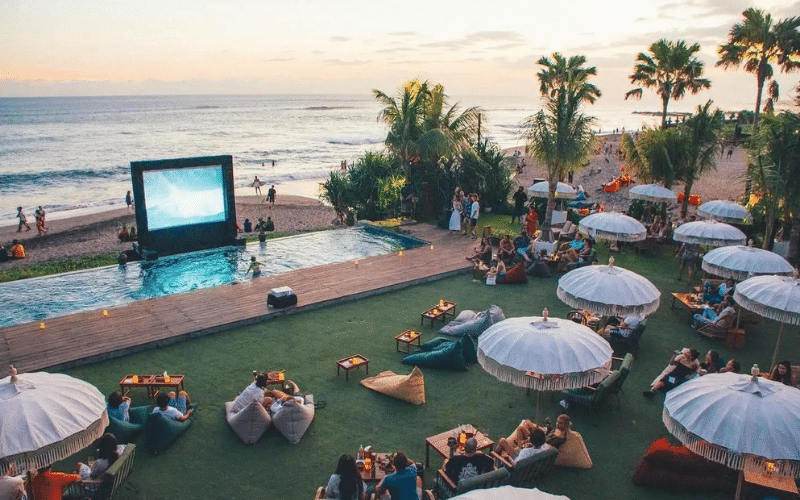 With its beachfront infinity pool and some of the best cocktails & gourmet bites around, The Lawn is Canggu's oceanfront trailblazer that has become a barfly favorite.
With its stylish cocktails, The Lawn is the place for those who want to taste hipster scenes – lounging under relaxing umbrellas while soaking in the vibes of Bali's amazing surf scene.
By day, sip on their Spiced Colada or Kelapa Mojito, then find a spot to watch the sunset at one of Bali's best beachfront bars in the evening. Top tip: head there on a Friday for one of the biggest weekly parties.
The Lawn, Jl Pura Dalem, Canggu
8. La Brisa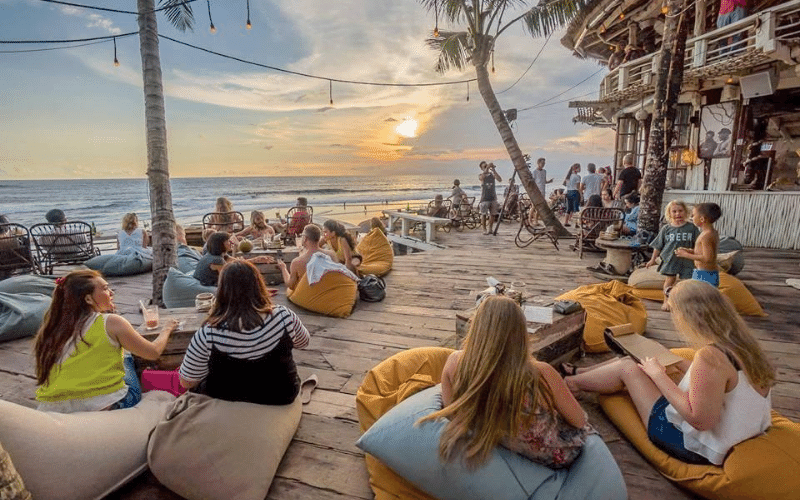 La Brisa has developed from the same family as Laguna, Favela, Sicilia, and Planchas. It is located on the beachfront and is calm and cozy. Fun colors are a common aspect of La Brisa's architecture.
Spanish dishes, cocktails, and music in the background – La Brisa is the perfect place to come with friends and soak up these moments.
xYou can start your day with a breakfast sandwich or a hearty brunch while listening to great music and enjoying beautiful views of the ocean. Saturday night is filled with parties that you won't want to miss out on, make sure you.
9. Revolver Espresso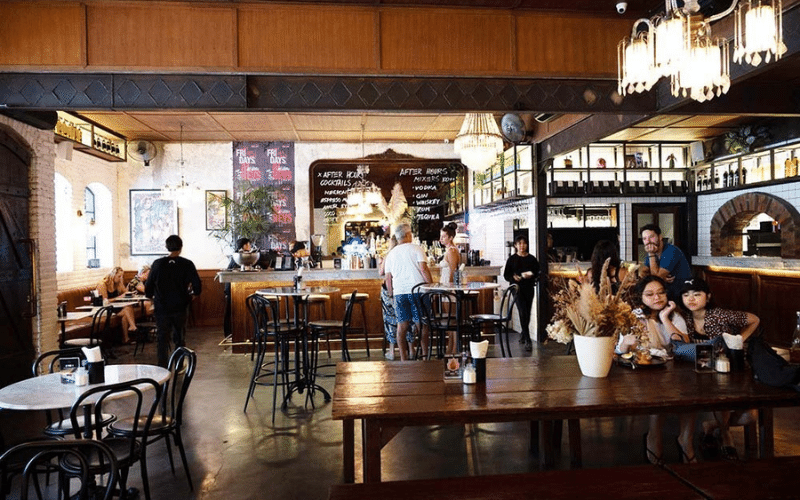 Revolver, a little coffee house on a tiny lane that catered to locals in Seminyak. Now it's one of Bali's go-to brands. The new Revolver in Canggu has made waves with its delicious coffee & cocktails.
The cafe serves up one of the best coffees on the island, and when you need a post-weekend hangover cure, their coffee will hit the spot!
Bring your appetite on Friday evenings as we pair delicious cuisine with the city's best cocktails for one of the biggest parties you've ever been to!
Revolver Canggu, Jl Nelayan No. 5, Canggu
10. Vault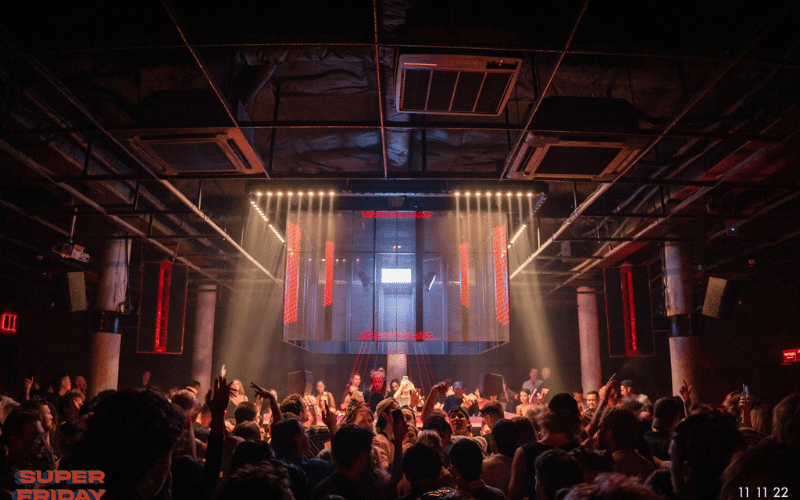 As soon as you step inside, it feels like you're in Berlin's famous Berghain nightclub." Vault appears to be a secret club to most people – but it's hidden in plain sight.
Inside the venue, you'll find punters piling in for disco nights, Wednesday night parties, and Friday and Saturday evenings when things get super lit.
Electro music fans from all over are coming to A-level for the electric beats, Euro vibes, and ultra-mod interiors. The dance floor is on until the very wee hours.
Vault, Jl Pantai Berawa No.99