howbali.com – Bali has a plethora of beaches for you to visit, swim, surf, sunbathe and drink coconuts and beers on (PSA: please drink responsibly, don't drink and drive) We've created a list of the top 10 beautiful beaches in Bali, but do not let this deter you to visit other ones that are just as beautiful.
Jimbaran Bay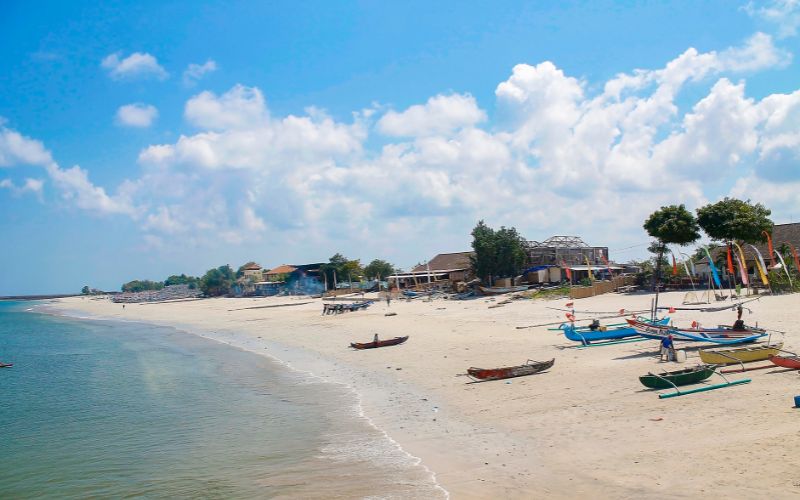 A beautiful stretch of glittering sands for a full 3km! It is quite a beautiful trip going back and forth along the beach, but honestly this beach is most famous for being the island's seafood hub.
Local fishermen will cash in their fresh-from-the-net seafood each morning at the busy markets, namely Kedonganan, and in the afternoons, the restaurants will be busy barbecuing your choice of seafood.
Believe me, there's a plethora of live fish, crabs, lobsters, oysters, and yeah, the list can go on. It's great for a romantic or a bonding family dinner, under the moonlight with sand between your toes and your typical acoustic group of middle aged men singing classic songs.
Insider tip: head to the area before dark as the restaurants can get super busy. Another insider tip : easily buy your seafood at the markets, drop them off at the restaurant, and get them all cooked and barbecued at your preferred pick-up time.
Affordable and hassle-free, especially for large-group-dinners at your home!
Nusa Dua Beach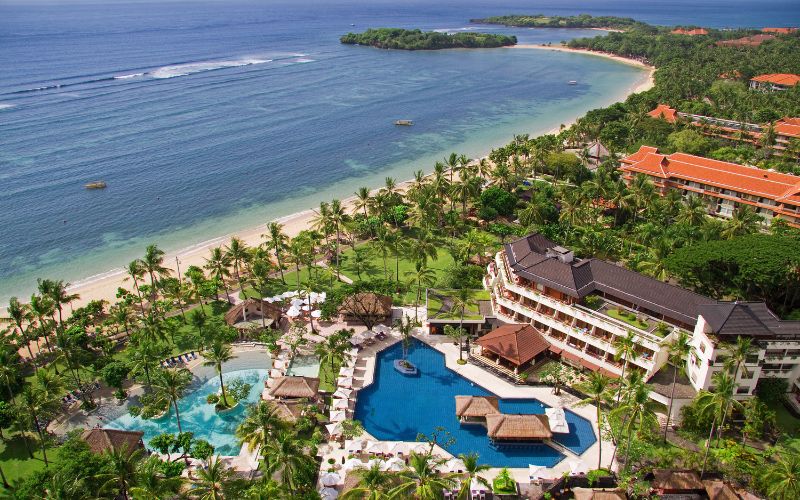 Nusa Dua Beach is literally a coastline full of manicured lawns and five-star hotels. It is very well-maintained, I guess a requirement to upkeep the visual quality of a fancy but chill resort area.
Unfortunately a small part of the beach is corroded, but it amounts to probably only 5% of the whole beach.
Its white sands are very clean, its waters are calm, a shopping complex named Sogo is within foot vicinity, and a personal favourite: it provides a jogging trail alongside the beach up until the neighbouring area, Mengiat Beach.
What's a better way to start the day with a morning jog and then a morning dip.
Sanur Beach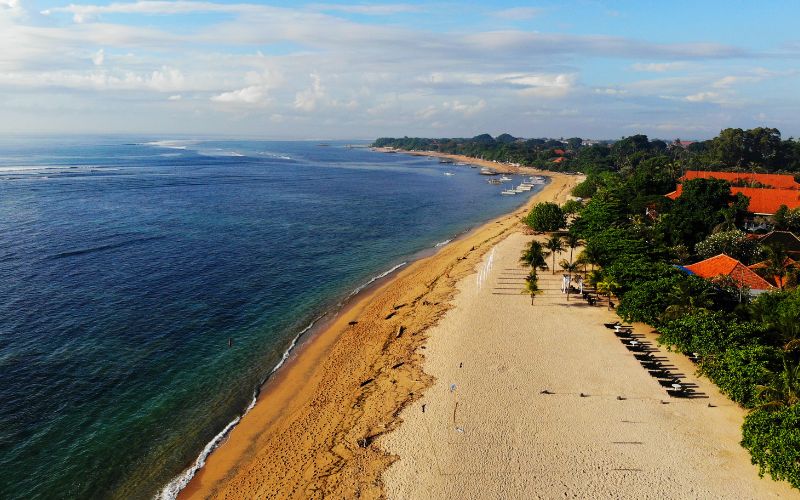 Sanur Beach provides a coastal promenade that extends up to 5km long, making it a good attraction for bike riders.
This path goes past resorts, beachfront cafes, parked local fishing boats and some luxurious villas built by wealthy expats who stayed in Bali from decades ago, where there was actually still land plots in Sanur.
You can expect a relaxing and leisurely day in this area, as it is more slow-paced compared to Canggu or Seminyak.
Padang – Padang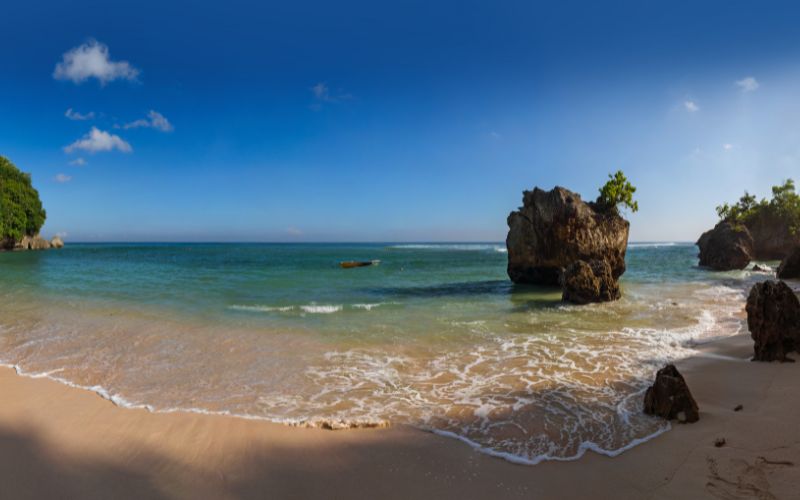 This hidden beach was already known, especially by us locals and surfers, even before the "Eat, Pray, Love" took place.
We can't blame the increase of visitors descending this spot all on the movie, as this stretch of pristine sands is definitely one of the most stunning spots in Bali.
It has calm waters rolling off the bay, cocooned by the rock formations, and the bay layout and winds creating world-class waves.
Padang-Padang is a relatively small beach, but the setting is simply pleasing to the eyes. Note that the best time to visit is early in the morning around sunrise.
Suluban Beach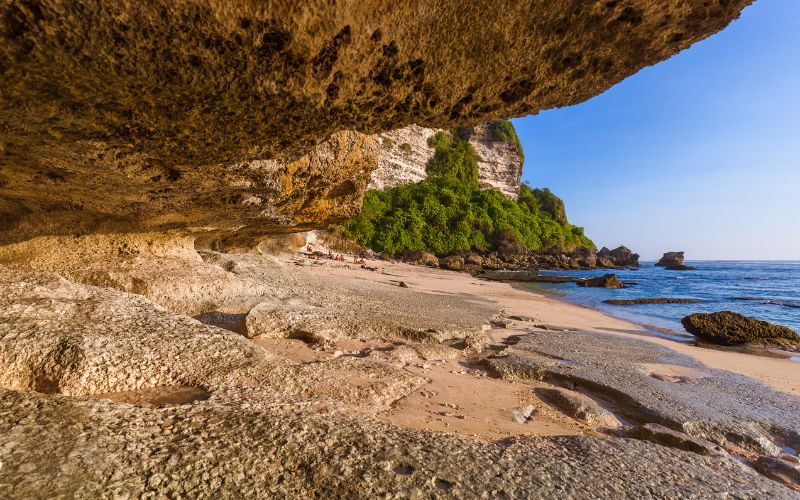 Entry point to the beach is down the steps, through the caves and onto the sand. When its high tide, this path is inaccessible so be sure to check the tide times on your trip. It's also the main access point to the world-famous Uluwatu surf break.
It also doesn't hurt that you have a few beach bars to chill at, with the most renowned Single Fin Bar sitting at the top of the beach. A great spot for sunsets.
Nunggalan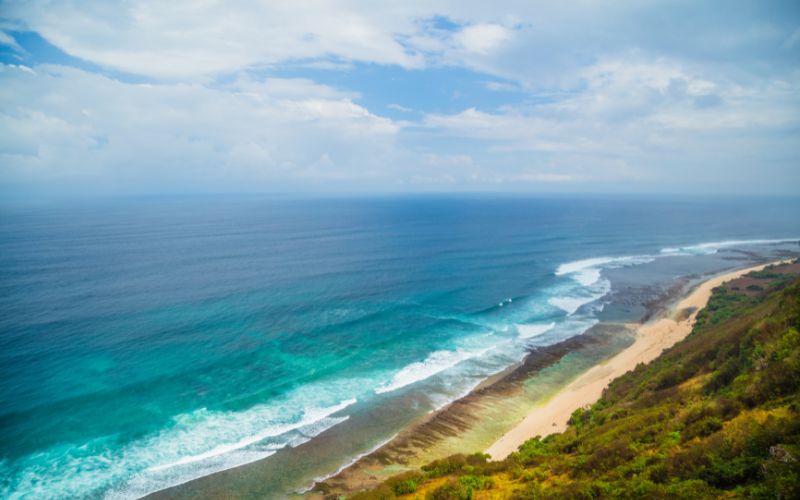 A more complex trip down to the beach, even more than Bingin. It's ultimately worth the trip, as this hidden beach is rarely packed and a great swimming spot with some friends. One side is the waters, the other side are cliffs full of greens.
Graffitied shipwrecks sit sporadically on the coastline, making this beach all the more unique. Don't let the descending steps deter you to this area.
Its neighbouring beach, Nyang Nyang is accessible by bike, with its parking spot directly on the beach.
Pasut Beach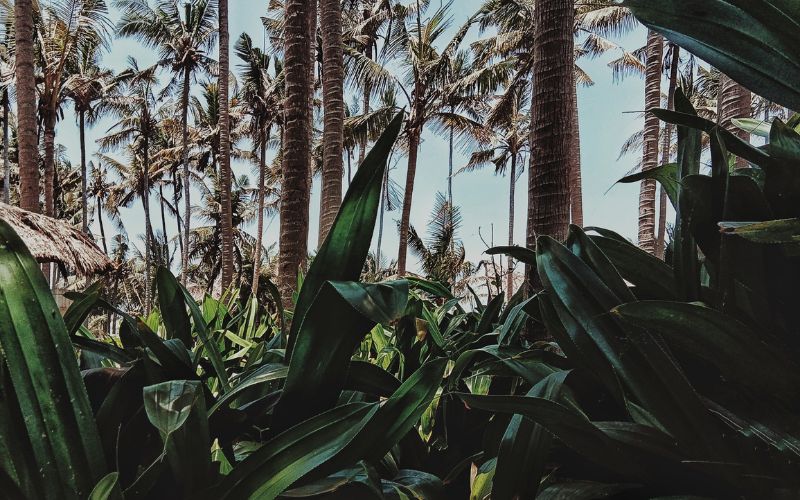 Pasut Beach sits on the western part of Bali, just around 30 minutes north from the renowned Tanah Lot and around 1 hrs from the hustle and bustle of Canggu.
Surrounded by hundreds of palm trees, this exotic beach is most famous for its black sands. Not many visitors come here every day, so expect almost an empty area with only locals going on their morning walks or kids playing football during sunset time.
Fun fact: Bali is home to three active volcanoes, and the black sands are a result of regular volcanic activity on the island.
Amed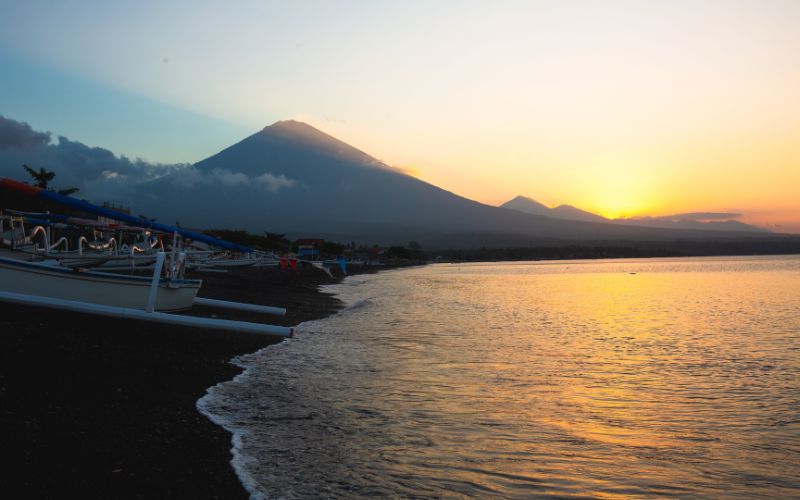 Amed Beach is actually more than just one single beach. Seven villages of Amed, Jemeluk, Bunutan, Lipah, Selang, Banyuning, and Aas are stretched out along a narrow road that connects them all and runs along the stunning coastline, now renowned as Amed Beach.
Mount Agung, the largest and active volcano in Bali, sits peacefully just behind Amed, with its latest seismic activity in early 2019.
Not to worry, it's definitely save to visit Amed and its black sands now. It is also a well know diving and snorkelling spot. An underwater adventure here is often involving a short trip to nearby Tulamben as well, where a sunken US Liberty Shipwreck can be explored.
Further north up is Lovina, another black sand beach where you can swim with the dolphins upon sunrise in the open ocean for as little as $10.
Menjangan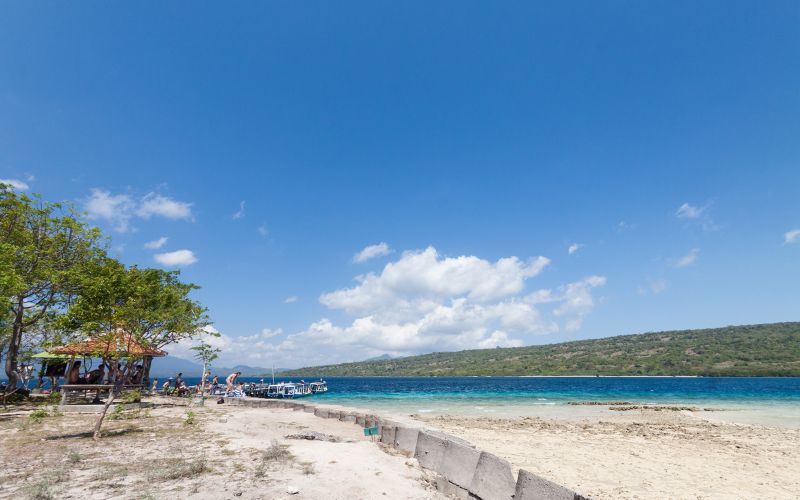 Menjangan is actually an island just on the northwestern part of the Bali, just an hour away from the crossing port of Bali-Java. There's really no words to describe the beauty of this area.
Sandy white beaches, the most vibrant underwater marine life and being a part of the West Bali National Park Conservation Area, do expect seeing some protected wildlife here.
One of my personal recommendations.
Nusa Penida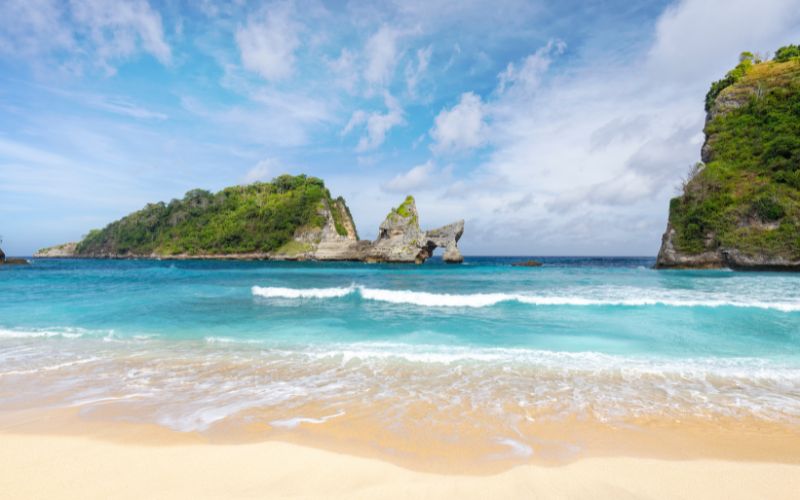 Do not get me started on Nusa Penida! You are up for an island adventure, for sure. The beaches, from Kelingking, to Crystal bay to Angel's Billabong.
I will just let these pictures of emerald green cliffs with turquoise water (Kelingking) and the naturally formed infinity pool tucked in between the rocks (Angel's Billabong) speak for themselves. Please note, that this island, unlike Nusa Lembongan, is definitely for adventurous souls only what with winding, unpaved roads.
Please be careful especially if you're not used to riding a motorbike.
It's very difficult to squeeze all the beaches into the top 10 only as the island is surrounded by different waters with its own individuality. There's the perfect places to surf, for romantic dinners, for calm waters, some coconut loving and so much more on the surrounding islands.
We do hope this list can guide you for your trip to Bali, but if you wish for some more local tips and tour assistance, the best thing is to contact us further so we can do our best to accommodate you.
Nevertheless, the best vacation is the one most suitable for your tastes, making the time and money spent all the more worth it.