howbali.com – Experience the best beach clubs in Bali and find out which ones are on top of our list when it comes to enjoying a drink, food, and great music. Get some tanning sessions in, too, at one of these luxurious beach clubs!
The charm of Bali Beach is its diverse offerings, which include an eclectic array of beach clubs. These places are cool and elegant, with a chill vibe and delicious food & drinks.
They are perfect for the place to escape.
These barefoot-luxury beach clubs offer some of the best entertainment our seaside city offers. They provide a mix of amenities, programming, and classy clientele, making them an excellent destination for anyone looking for something different from the traditional club scene.
All these beach clubs have outstanding facilities, exceptional service, and a great holiday feel. We recommend checking out our favorites in this feature and our complete guide to the Bali top beach clubs.
Best Beach Club in Bali
1. Sunday Beach Club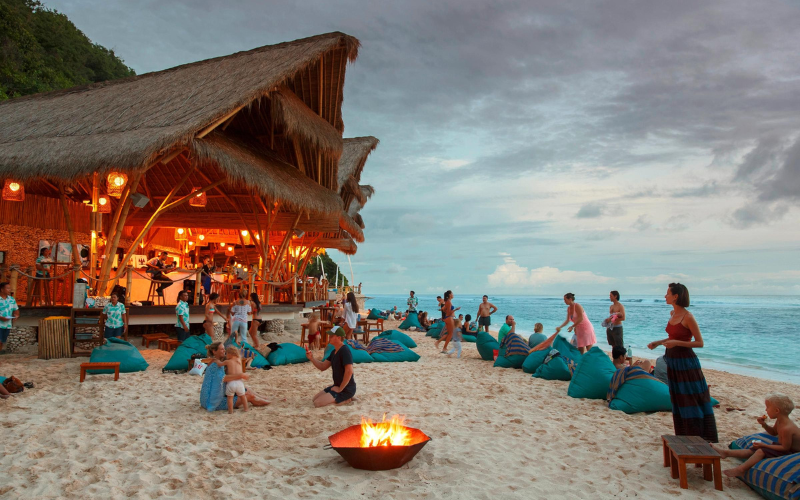 Sun, sea, and sand make it an excellent venue for a Sunday Beach Club.
Bali is famous for its beach club, but not all beach clubs here sit directly on the sand. Even so, this one lets you spend a whole day relaxing with your toes in the sand.
Take the cliff-side escalator down to this hidden beach oasis for the ultimate summer experience. Top-notch drinks and expert restaurant service fuel this place until the sun goes down.
Take a gourmet seafood break at the beach, where you can graze through squid, pizzas, and fish. Besides sunbathing and snorkeling, you can also try out kayaking & paddle boarding on the coast.
Sundays Beach Club, Jl Pantai Selatan Gau, Banjar Wijaya Kusuma, Ungasan
2. Mari Beach Club – Batu Belig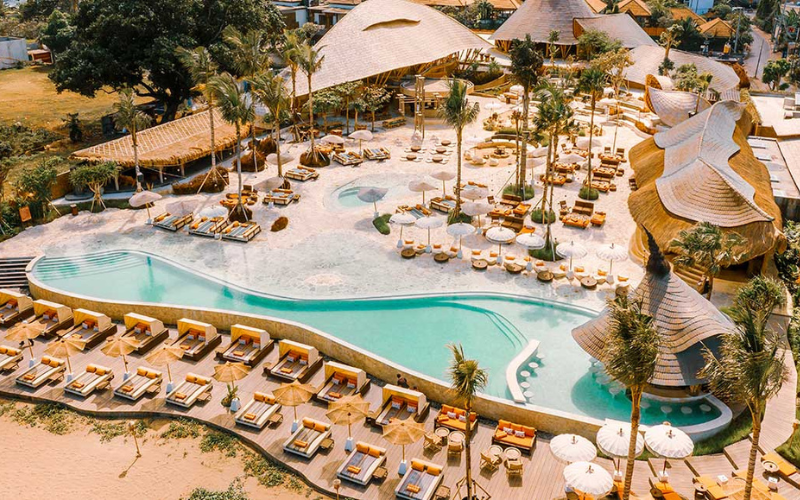 Mari Beach Club has a style unlike anything else on the island. You'll find DJs spinning tunes and cocktails flowing all day in this luxe beachside lounge.
This new beach club is all about luxury living. It has boundary-pushing designs and holistic Balinese hospitality.
Balinese culture and traditions have been beautifully intertwined with the natural elements here. The result is a sustainable beach club experience that embodies the purest of Balinese cultures.
Mount Agung is represented by a magnificent bamboo dome, while iconic wooden swings allude to Tenganan.
A wading pool symbolizes the sacred Ayung river, which leads to our infinity pool, sun deck, hollow bar, and a variety of cozy daybeds.
The result is an unpretentious destination where you can relax and hang out late, eating Mediterranean-inspired dishes made with locally sourced and homemade ingredients.
Mari Beach Club, Jl Batu Belig No.66, Seminyak
3. The Lawn – Canggu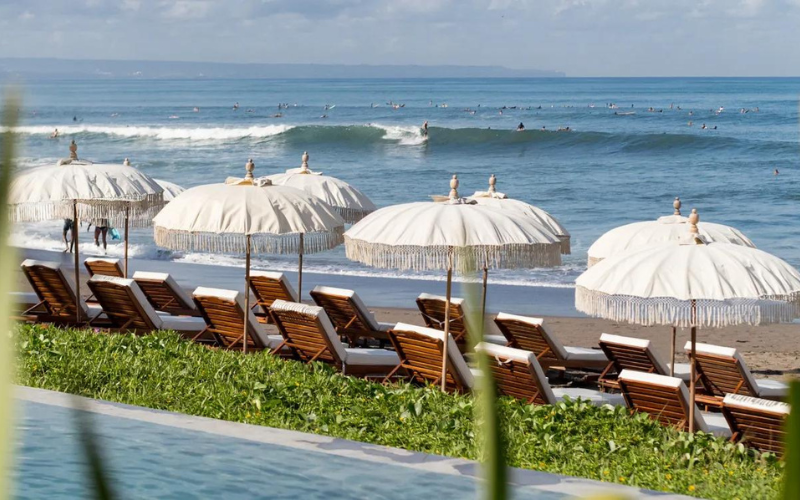 This happening spot at Batu Bolong Beach is always a top choice for those looking to combine cocktails, gourmet bites, and a place with local culture.
Overlooking the waves and with one of the best sunset views, The Lawn's grass is greener.
Oh, and there's also an indoor pool, beach-chic daybeds, and some good-looking people enjoying the beautiful sunny weather and island vibes.
The Lawn, Jl Pura Dalem, Canggu
4. Canna Bali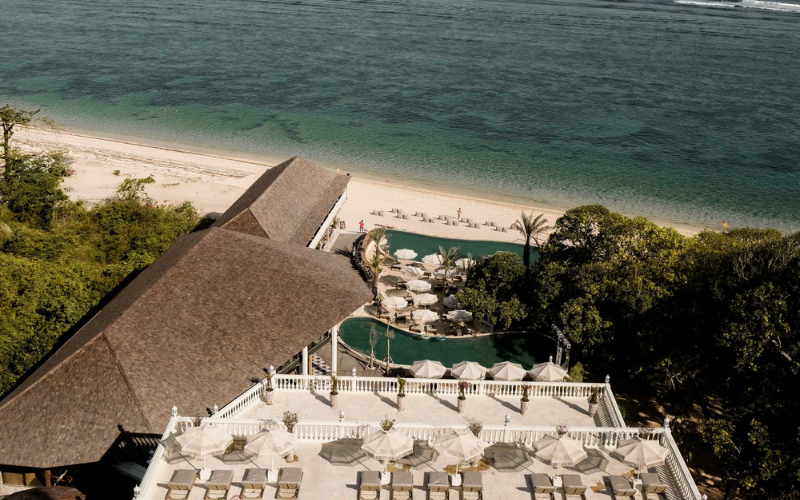 A so-called one-stop lifestyle destination, Canna Bali is home to more than just a stylish beach club. It features multiple best restaurants, a live music venue, and much more that tempts you to wander its pristine shores.
There are so many great places to chill down here (our favorite is the Canna Deck with its chic daybeds and al fresco bar).
Canna Lodge is also a semi-indoor place for you to enjoy. And if you want something on the beach, you can try Canna Sand with private, bohemian teepees around a bonfire for your sundown picnic.
Canna Bali, Jl Raya Nusa Dua Selatan, Benoa
5. Café del Mar – Canggu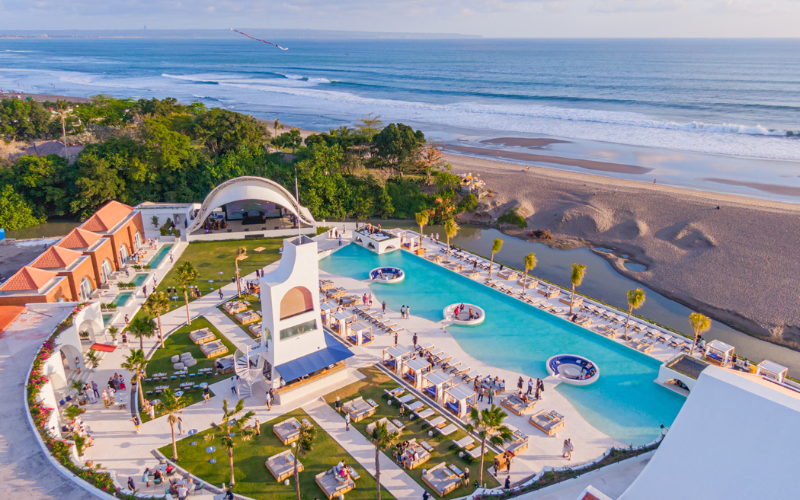 This sun-kissed beach club brings Ibizan vibes to Bali, and our tanned bodies are forever grateful.
Here you'll want to show off your finest designer bikini because Café del Mar Bali is a breathtaking 10,000 square-meter, two-level beachfront pool club located on Berawa Beach in Canggu.
It features a luxurious 1,000-square-meter infinity pool with amazing views of the ocean and private luxury cabanas that make you feel more like you are on vacation.
You also have access to an upscale coastal Mediterranean restaurant on site. Multiple swim-up bars, cocktail lounges, and a stage for significant outdoor music events are all available on-site.
Café del Mar, Jl Subak Sari, Canggu
6. La Brisa – Canggu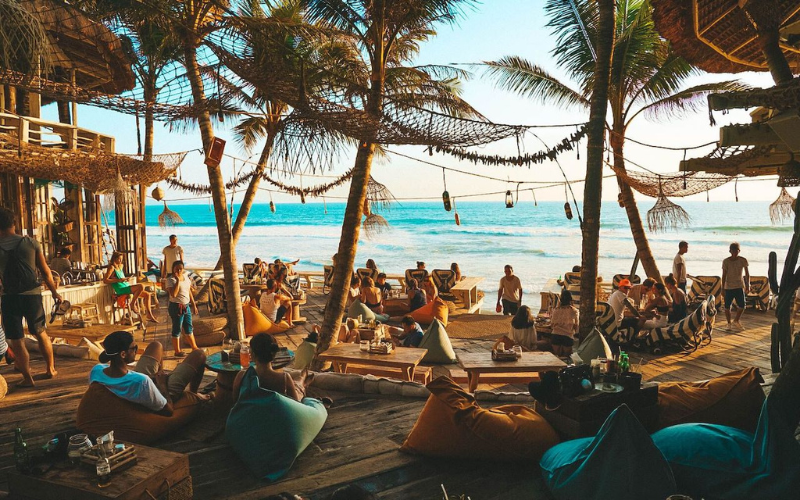 The boho-beanbag beach club La Brisa is located at Echo Beach in Canggu and has a relaxed ambiance with a chilled-out, tropical vibe. Visitors can drink cocktails by the pools with stunning views of the ocean.
La Brisa, from the same family as La Laguna, La Favela, and La Plancha, continues the trend with ramshackle cool. All three of these cities have been considerable successes in their own right, so it seems there's no denying this trend is here to stay.
We're stoked that none of the castaway island charms has been lost at La Brisa. It's beautifully casual with a chic edge, such as their use of reclaimed wooden deck chairs!
You'll find rustic Spanish food and delicious cocktails, swaying palm trees, and a hot soundtrack to make it one of the most relaxing places you've ever been.
La Brisa, Jl Pantai Batu Mejan Gg. La Brisa, Canggu
7. SAVAYA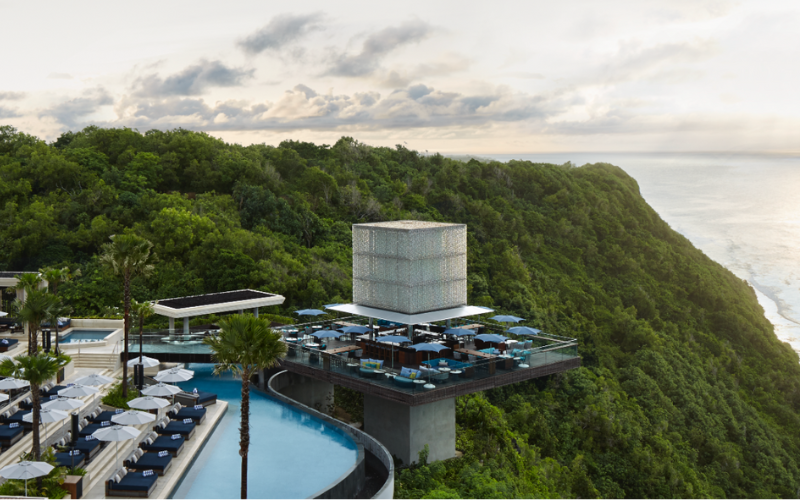 From its top-floor location, Savaya makes it easy to be adventurous without leaving the city. Whether an ex-pat looking for unique perspectives of Bali's surroundings or a seeker of luxury living, Savaya has everything you could want in a beach club experience.
This gorgeous beach club in Bali, a celeb-filled hangout spot, has jaw-dropping designs, luxurious cocktails, and breathtaking views. You'll also find superstar DJs who will provide some good vibes.
Savaya, Jl Belimbing Sari, Banjar Tambiyak Desa, Uluwatu
8. KU DE TA – Seminyak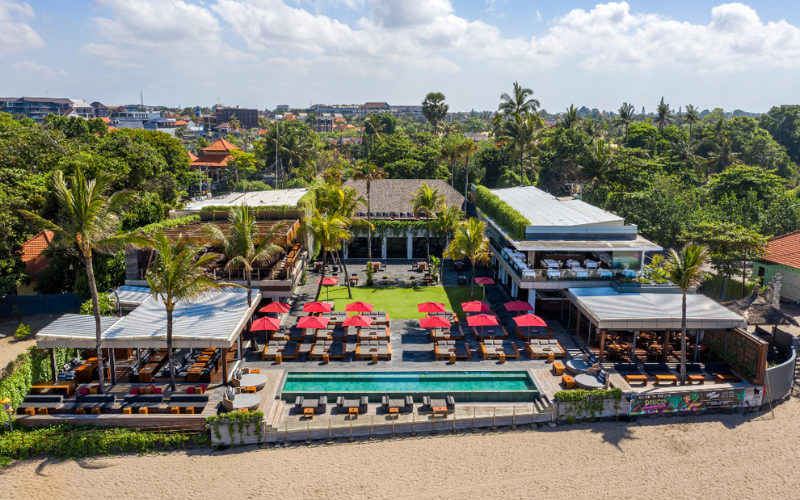 When it comes to Bali, KU DE TA truly stands out. Their modern design, stylish food & drink menu and commitment to giving back to the community have quickly made this beach club an institution, Unmissable.
Eating your breakfast, lunch and dinner by the beach – every meal is better when you catch the oceanfront view. Head to the swish downstairs decking restaurant for a romantic night out with your partner.
It's a must see for any foodie, as it has one of the hottest tables in town with a cutting-edge degustation kitchen.
KU DE TA, Jl Kayu Aya No. 9, Seminyak, p. +62 361 736 969, e.reservations@kudeta.com
9. Ulu Cliffhouse – Uluwatu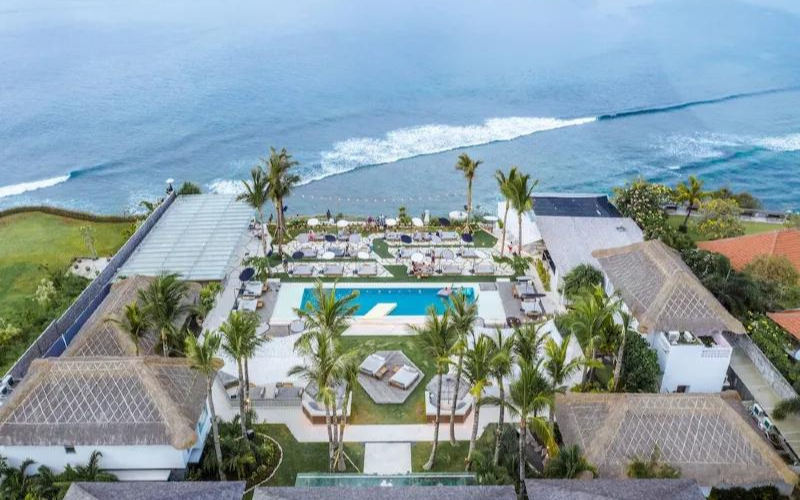 Ulu Cliffhouse is the next best beach club in Bali that is high up and overlooking the Uluwatu ocean. Its picturesque views, delicious food, and welcoming staff have made it an instant success.
The views here are unreal, deep blue and blue with the Indian Ocean. You can enjoy them at the food outlet or the 25-meter pool too. It's also a recording studio, restaurant, and art space, so you'll never get bored!
There's always a fantastic lineup of regular DJs playing at sundown. They're all locals or international visitors and know exactly how to start the party.
10. Finns Beach Club Bali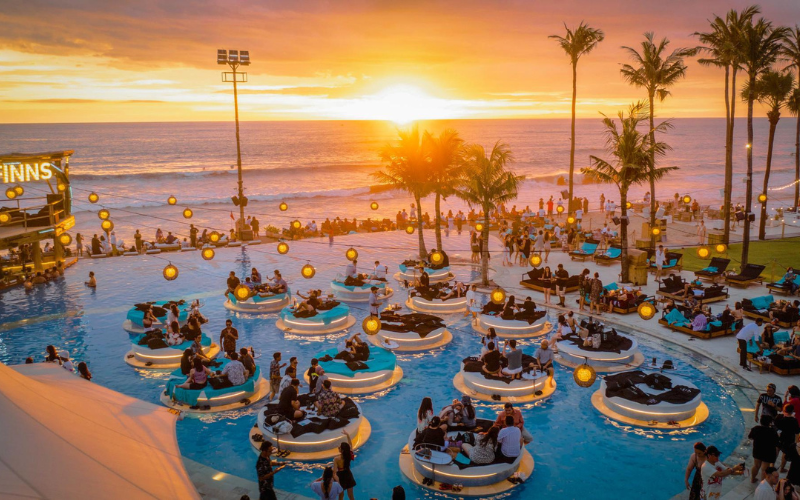 Finns Beach Club – Canggu's legendary bamboo party room of tropical island hedonism. This highly coveted toes-in-the-sand location on Berawa Beach has long drawn the hearts of sun worshippers, partiers, and luxury seekers alike.
The front row position between the shores & the sea is breathtaking. Keep your eyes peeled for some scrummy gourmet bites, cocktails, and fabulous parties.
It's hard not to spend a whole day here – you can lounge on your sunbed or by the pool, swim to the pool bar for some Mojitos, and then hit up a floodlit surf session in front of the resort. The vibes will be ramping up, too!
Finns Beach Club, Jl Pantai Berawa, Canggu, p. +62 361 844 6327, e.info@finnsbeachclub.com