Bali is a paradise for tourism destinations for local and foreign visitors. Whether for destinations, culinary, and so on. One of the extraordinary is the beach. Bali also has the beach most favored by the best surfers in the world.
Well, maybe for those of you who come to Bali and are looking for surfing classes for beginners, you have come to the right place. Below we have presented a list of some surf lessons in Bali that you can try when you are in Bali.
Best Surf Surf School in Bali You Can Try
In Bali, surfing is the most popular activity, so it's a shame to go to Bali, but you don't surf. With some of the following lists of Beginner Surf school in Bali that you can find so, you can surf right away:
Bali Tubes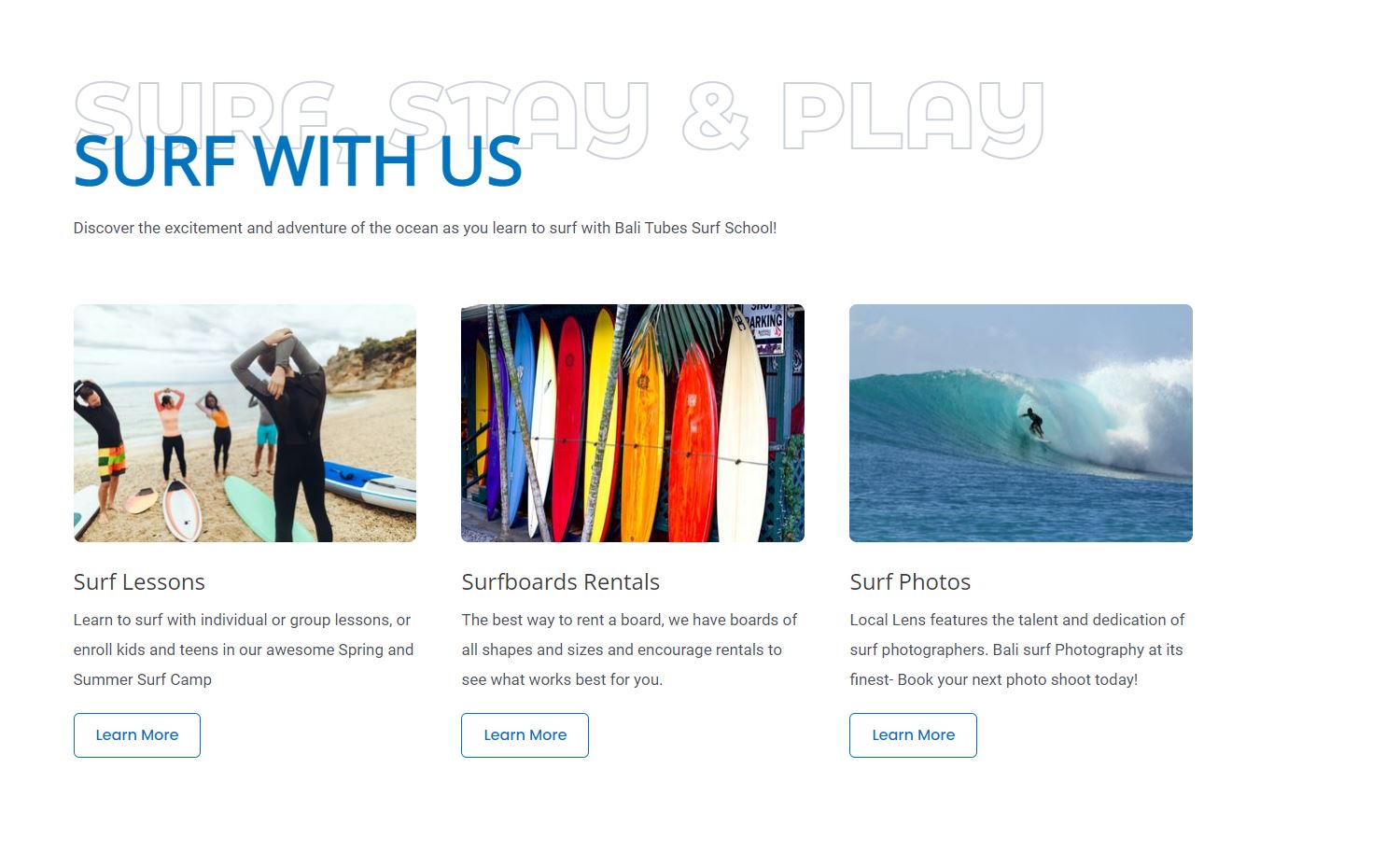 Learn and enjoy the roar of the waves by surfing the seas of Bali with Bali Tubes. Bali Tubes has more than 20 years of experience in teaching all ages. Starting to study surf lessons in Bali alone or with a group can be your choice.
Address : Balangan Beach Road Number 69X, Ungasan, South Kuta, Badung Regency, Bali 80361.
Website: BaliTubes.com
Soulrider Camp
Enjoying the waves by surfing is an enjoyable thing at the beach. Soulrider Camp is an option that you can try by offering beginner surf lessons in Bali to intermediate training techniques. You can share lots of experiences and fun things about surfing with Soulrider Camp.
Wave House Bali
Learn to ride the waves with the wave house surfing lessons in Bali. Offer a pervasive program for beginner surfers intermediate. On top of that, they also provide a surf camp if you want to return to the beautiful inn after learning how to surf.
Address: Discovery Villas Subak Sari Road Number #100, Tibubeneng, North Kuta, Badung Regency, Bali 80361.
Odysseys Surf School
Bali offers many beaches and seaside recreation; Kuta is one of the best in terms of beaches and things to do. At Kuta Beach, Surf School Odyssey surfing lesson Bali provides the best lessons for those who want to learn to surf. They will give you a guaranteed free extra lesson if you don't make it at the end of the class.
Address: Lobby Mercure hotel, Kuta Beach Road, Kuta, Badung Regency, Bali 80361.
UP2U Surf School Bali
UP2U surf the surfing school in Bali will make you feel the beauty of being able to surf safely and easily and having a professional and friendly trainer and an affordable price with a wide range of training.
Address : Kuta Beach Road Number.2, Legian, Kuta, Badung Regency, Bali 80032.
Rip Curl School of Surf
This is the time for you to learn and start exploring using your surfing. Discover new challenges in surfing, such as finding the right wave for you. The trainer will train you from beginner to advanced level.
Address : Hotel Prama Sanur Beach, Cemara road, Sanur Kauh, Denpasar Selatan, Kota Denpasar, Bali 80228.
Conclusion
Bali is a paradise for professional surfers. It's a loss if you can't enjoy the waves of Bali by surfing. Above is a list of surf lessons in Bali that you can visit to learn to surf. Good luck.