Bali has many fantastic local curry houses, plus some highly high-end fine dining options. There are plenty of both that deserves shouting about. Here are some of the ones we think are particularly worthy of your attention (and cash).
It mixes excellent neighborhood joints and more upscale Bali purveyors of South Asian cuisine. Bali's vibrant Indian food scene offers the full range of regional styles and specialties – from Bombay biryanis to Punjabi grills – it's a Bollywood symphony of fantastic flavors.
Queen's Tandoor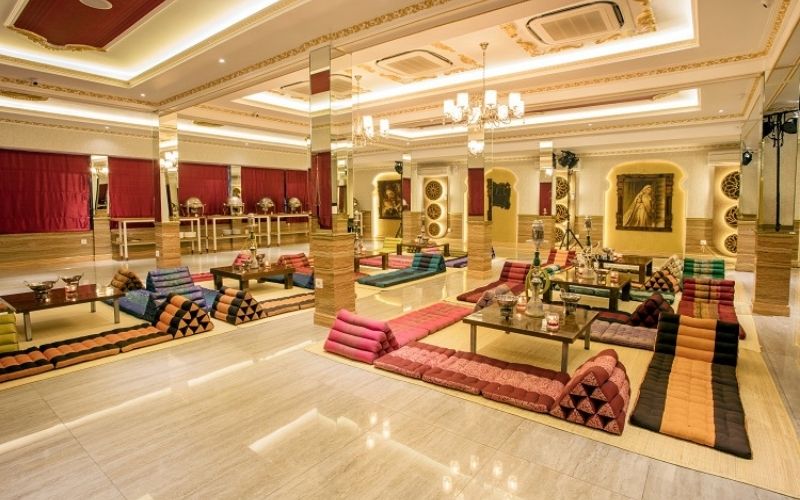 The Queen's Tandoor is one of Bali's most reliable Indian restaurants, the perfect embodiment of royalty and elegant dining.
There are talented Indian chefs dedicated to serving delicious Indian cuisine, especially for you. At Queen's Tandoor, you must order whatever delights you.
The chef will take care of it. Dining at the Queen's is amusement in itself.
Queen's Tandoor has a private dining room, open terrace décor, live kitchen shows, and exclusive porches designed especially for the comfort of visitors.
The menu at Queen's Tandoor is assorted in nature with various vegetarian, non-vegetarian, and vegan platters. Try their special Mutton Vindaloo, Masala Dosa, Tandoori Chicken, and Fish Tikka.
The restaurant is a significant part of The Queens of India franchise with four other Kuta, Nusa Dua, and Ubud outlets. The fourth one is the Queen's Tandoor in Seminyak.
Spice Mantra Kuta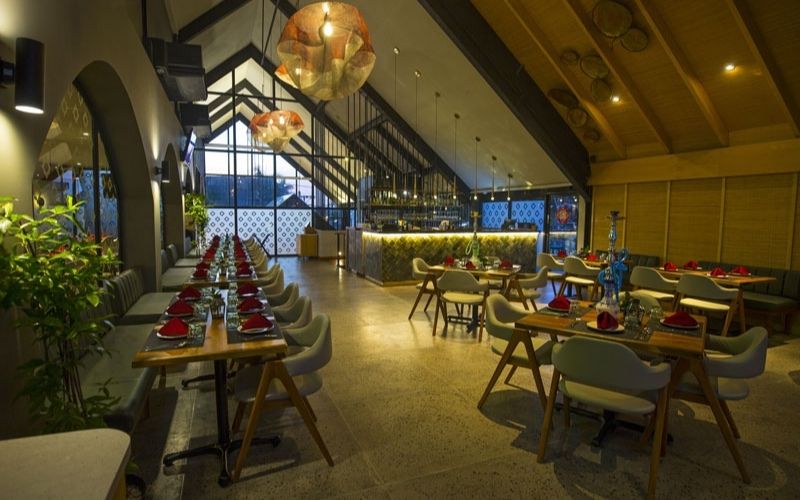 Arrive at Spice Mantra to enjoy your taste buds with their various menu of Indian fineness. Speedy service, cozy and modern atmosphere, delicious Indian cuisine, and hospitable staff; this is what Spice Mantra is renowned for in Bali.
The menu here is so diverse that it represents the whole Indian food culture. It's heaven for both vegetarian and non-vegetarian foodstuffs.
Their specialties include Smoked Butter Chicken, Vada Pav, Lamb Rogan Josh, Biryani, Rice Papad, and Hara Bhara Kabab. The whole atmosphere at Spice Mantra makes you feel at home.
Mumbai Kitchen Bali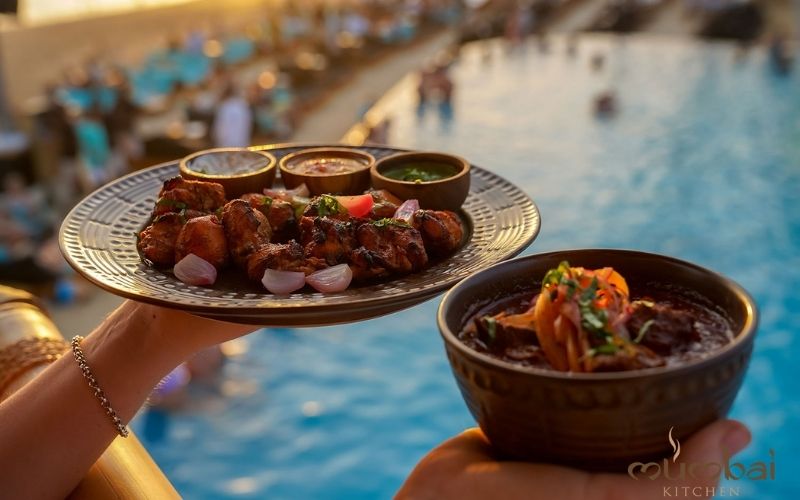 The Canggu area is starting to attract Indian tourists. Canggu provides many beach clubs and restaurants for hangouts. Also, Canggu is a very strategic area because it's close to Tanah Lot Temple and the Seminyak area.
If you are on vacation to Canggu Bali and want to taste Indian foods in Bali, we recommend you visit one of the authentic Indian restaurants in Bali, Mumbai Kitchen Bali.
Located at Finns Beach Club, Canggu. Mumbai Kitchen Bali is one of the best Indian restaurants you can add to your trip pocket to Bali.
With a distance of 11 Kilometers from the airport with an estimated travel time of about 36 minutes, you can feel the taste of Indian food at Mumbai Kitchen Bali.
Ganesha Ek Sanskriti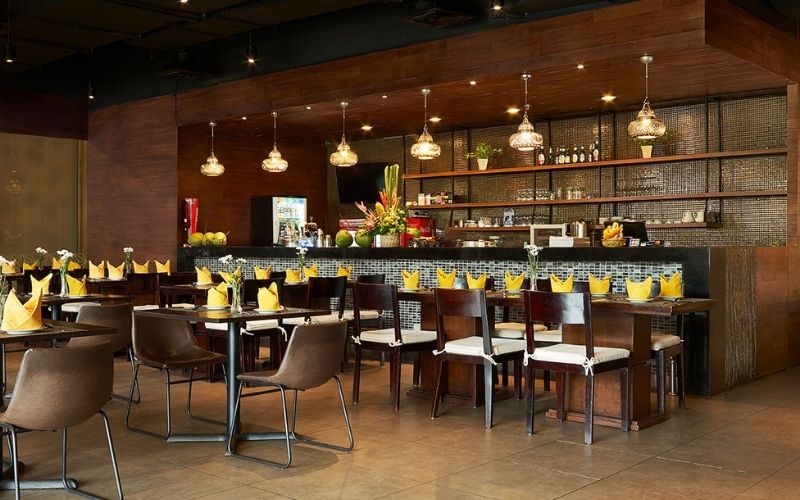 Ganesha Ek Sanskriti is the only Indian restaurant in Bali that focuses on the traditional essence of India. The restaurant is widely renowned for relishing classic art, music, decor and managed by Chef Surjit, who is famous for his special Tandoori and Curries.
Ganesha Ek Sanskriti welcomes you to get the real taste of Indian flavor in Bali. The restaurant has one of the best teams of chefs that bring you delicacies straight from the land of diversity.
Cooks here take special care of hygiene and sanitation while preparing various dishes. You can try unique Rogan Josh, Butter Chicken, Biryani, South Indian platters, sweets, etc.
The Royal Kitchen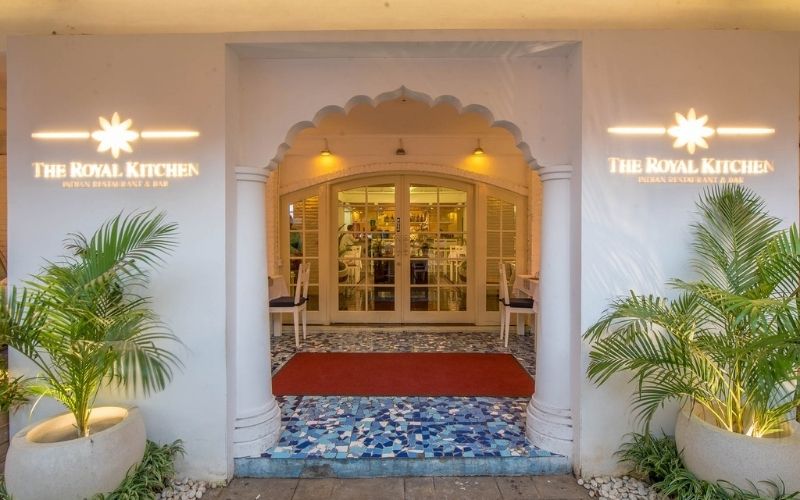 The Royal Kitchen offers excellent food, a delightful ambiance, and fantastic service. It treats its guests to authentic Indian foods crafted by local chefs. The restaurant has a record of providing good-quality food, excellent benefits, and romantic dinners.
They provide food services to cooperate with gatherings, private parties, weddings, and other social events. Besides having tasty Indian delicacies, most customers remember it for its friendly environment close to the beach.
Honeymooners and persons fond of culinary can significantly enjoy a vacation here. In the Royal kitchen, they will serve you your favorite dish.